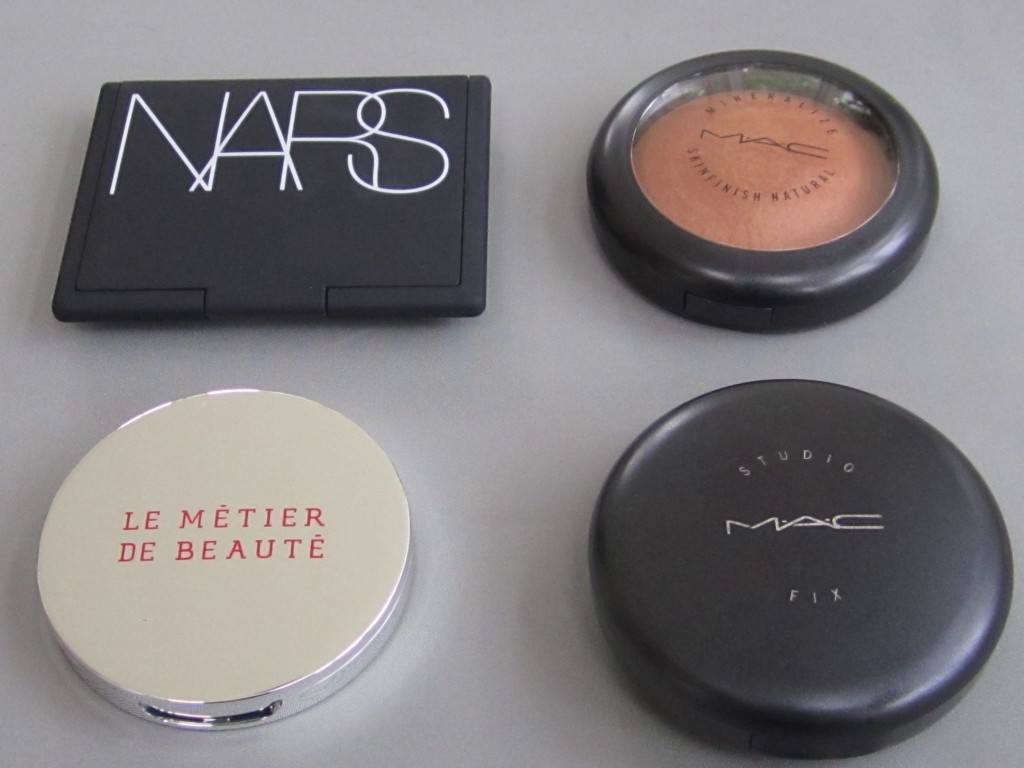 I thought I'd show you a few of my favorite pressed powders. I have a few newer ones that I'm going to be showing you in the next few weeks so I wanted to let you know what I have been using for the last year or so. Actually there is one powder in this group that I've been using for several years…
I have said it a few times before but I'm not a big fan of powder in general but it is a necessary evil especially with an oily t-zone like mine. I have a variety of powders that I use depending on the situation but all of these get a decent amount of use. I'll tell you what I like about each one and give you some other details so if you're in the market for a powder maybe one of these pressed babies is right for you!
Nars Mountain, $32- This is the softest powder out of the bunch. I remember thinking that Nars doesn't make a pressed powder for me when I was checking Mountain out at Sephora. But I read that this shade was created for Naomi Campbell so I gave it a try. Well it's a great fit for my skin. This doesn't look all crazy ashy on my skin and blends in to keep oil at bay really well. It also has a great natural finish which is the number one thing that I look for in my powders.
Le Metier De Beate Maldives Magic Blonzer, $58- This was a surprise to me. I really was happy after this was used on me in a LMDB makeover to set my makeup. It is shimmery in the pan with glitter but doesn't leave a disco ball shimmer to my face. This powder can work for a variety of people depending on your skin tone. On a lighter skin tone this could be a bronzer. I think they got the name right, it is kind of magical.
Mac Mineralize Skinfinish Natural Deep Dark, $27- This is something that I just started using within the last year or so. I love it and will never be without it though. I love the color and this powder is just perfect for touch ups. I just learned from another blog that this can be used wet so I still have to try that but I really love this powder from Mac, its one of the best matches to my skin and it's what I like to set my makeup with the most if I'm not using loose powder.
Mac Studio Fix Powder Plus Foundation N9, $26.50- I've used this for years. It's a staple in my makeup collection. I actually have two of these because I'm so afraid to be without it. I have this one pictured above in my purse-that's why it's so beat up! And I keep another one on my counter at home. This is an excellent color match for me and this is a powder that I use over foundation to set makeup and I also use it alone over moisturizer on days that I don't wear foundation. Its made for that and blends in and makes my skin look kind of radiant. I get more compliments wearing this alone on my face than I have with any foundation that I own. This is the one product that you should check out if you haven't already seen it from this group. I highly recommend it!