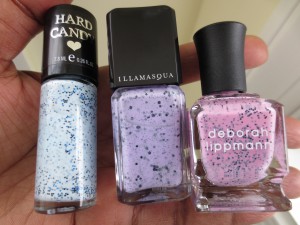 Hard Candy Jelly Bean Blue, Illamasqua Speckle, and Deborah Lippmann I'm Not Edible
On Monday I painted my nails with a variety of "speckle" polishes. I used Hard Candy's Jelly Bean Blue ($4), Illamasqua Speckle ($16), and Deborah Lippmann's I'm Not Edible ($19) and days later they all look really good! I used my favorite base coat lately Butter London's Nail Foundation and two coats of each color, and then a top coat of Seche Vite.
Take a look at how my little piggys look four days later.
The only wear is on the Hard Candy shade (the blue color) in the bottom corner. The Deborah Lippmann wore a little on the bottom of my pinky nail. So pretty good right? Well thats my left hand. Did I mention I was right handed…..?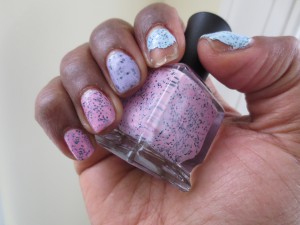 The Hard Candy suffered a bit more on my hard working right hand. I didn't open coke cans with my nails I just did regular activities. So expect that the Hard Candy is beautiful and at $4 a steal but….its more likely to chip. The Illamasqua and Deborah Lippmann really went the distance. Grrrrr.
So there you go. I can't wait to paint my nails. I'm in need of a speckle break ha!