Stila Color Balm Lipstick-Gemma ($22)
I love Gemma. She's my ride or die. I love this pink violet mix of color. It's not totally unique but eye-catching as hell. From the Sephora website:
What it is:
A creamy lip color with the full pigment-load of a lipstick, the nourishing properties of a balm, and the shine of a gloss.
What it does:
Featuring a luxe, satin finish, Color Balm lipstick offers excellent color payoff, subtle shine, and phyto-derived emollient properties that deliver hydrated and healthy lips. Naturally cooling peppermint oil provides a fresh and rejuvenating sensation, while exclusive sunflower-based polyglycerides smooth lip contours and add volume and definition to lips. A handy mirror on the top of the cap makes on-the-go application a snap.
What it is formulated WITHOUT:
- Parabens
- Sulfates
- Phthalates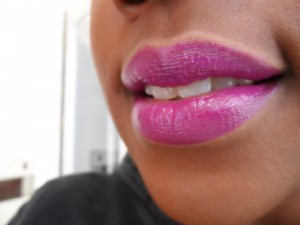 But here's all you need to know. If you are sensitive to a slightly minty feel on the lips this might not be for you. It's not as strong as Blistex on your lips but it's that same minty feeling. It doesn't bother me at all and I think people that are into the Bare Minerals Moxie or Buxom glosses that tingle will even notice it much. It's not as strong as those. The color is fantastic and the lipstick is comfortable to wear. It's not something I have to touch up a lot either which is good.
There are other shades in the range that are pretty. But there is only one that I am looking forward to getting down the road and that is Betsey. It's a fuchsia. I got Gemma at Ulta and it's at Sephora as well. Check this new line of balmy lipsticks out on your next visit to either place. I think you might want to pick one up. I'm waiting for a 20% off sale to pick up Betsey. She will be mine!