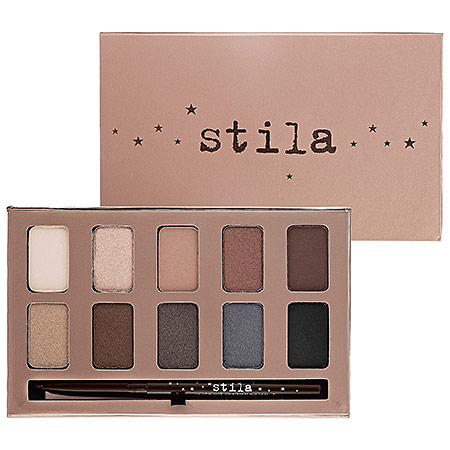 Stila In the Light Eye Shadow Palette, $39 at Ulta
So many people told me to check this palette out! I finally got it and now I'm gonna swatch it for you so you can see that this is a palette to think about picking up. I think some people might be able to get a lot of use out of this because pretty as it is…it's an every day type palette. There are a million looks in this line up of ten shades and thank goodness they threw some mattes in there!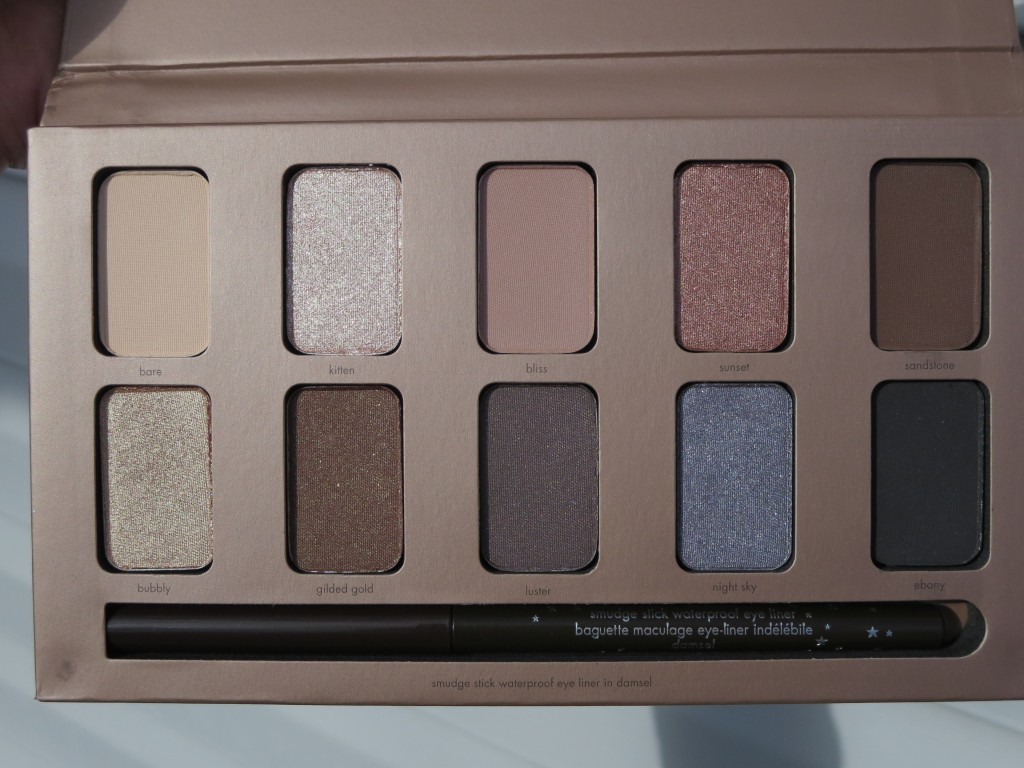 From Ulta's website:
The palette includes an exclusive Smudge Stick Waterproof Eye Liner in Damsel, a matte chocolate brown, and an 6-page lookbook with detailed how-to tips and tricks.
Shades include:
Bare – matte ivory shade
Kitten
Bliss – matte beige pink
Sunset – shimmery canyon pink
Sandstone – matte light coco
Bubbly – shimmery pale gold
Gilded Gold – golden brown with shimmer
Luster – dark aubergine with gold shimmer
Night Sky – blue with shimmer
Ebony – black
BONUS: Palette also includes an exclusive Smudge Stick shade in Damsel, a matte brown. Total eye shadow weight: .49oz. Smudge Stick is full-sized.
These colors can be worn wet or dry. Here are some quick swatches of the colors dry without primer. Remember to click on a picture to make it bigger.
Bare, Kitten, Bliss, Sunset, and Sandstone
Bubbly, Gilded Gold, Luster, Night Sky, and Ebony
Stila always manages to make usable shimmery shadows. They aren't straight up glitter even though they look seriously shimmery in the pan. I know Kitten is a favorite shade for many but this palette incorporates so many other usable as well as wearable shadow shades. I love the finish (could you tell already?) but there is some fall out. I always do my eyes first so I never worry much about that. I didn't get a chance to use the included brown smudge stick in Damsel yet but I can tell you I already love the palette.
I don't know why I always overlook Stila palettes but that ends now. I hear they have a all matte finish palette….I'll let you know if I pick it up!