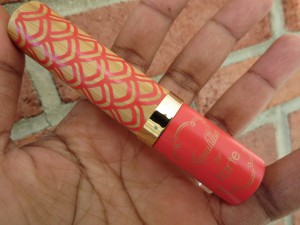 Tarte Aqualillies 12 Hour Lipstick in Timeless, $26 at Sephora
This is so nice and moisturizing! I really love a bright lip and a moisturizing one hot damn I'm all about it! I love this pretty bright coral shade and I've been wearing it for a little bit but forgot to post it up for you. I got it from the Sephora VIB sale weeks and weeks ago. I've tried one of these Glamazon lipsticks before (I don't think I've posted on that shade either…) so I know that I like them. But this color…I had to get it!
From Sephora.com:
What it is:
A vivacious coral shade of Tarte glamazon™ Pure Performance 12-hour Lipstick inspired by the Aqualillies.
What it does:
Make a splash with this vibrant coral hue inspired by America's most glamorous synchronized swimming group! Aqualillies reinvent the classic art of water ballet and mesmerize audiences with their modern strength and vintage beauty. These true Tartelettes—fearlessly powerful, healthy, real women—are the perfect muses for this high-performance, splash-proof collaboration.
A unique blend of emollient-rich butters (mango, avocado, and shea) and high-performance Amazonian clay is encapsulated in this proprietary natural formula to achieve rich, vivid, and long-wearing color that applies smoothly and won't fade away. Always hydrating and never drying, this high-cushion lipstick keeps lips moisturized all day long, minimizes the appearance of fine lines, and stops feathering in its tracks to give lips a perfect, plumped-up look. Take a dip into the Aqualillies world with a bold-statement lip thanks to this 12-hour wear, clay-infused lipstick. It's sure to make waves in and out of the pool!
What it is formulated WITHOUT:
- Parabens
- Sulfates
- Phthalates
What else you need to know:
Amazonian clay restores the lips' natural moisture content with nourishing and hydrating properties for better, longer, truer wear. Mango is extracted from mango fruit kernels and provides emollient and regenerative benefits to soften lips. Shea butter is a natural skin emollient that helps retain the appearance of elasticity and protects against degeneration. Avocado extract is rich in vitamins A, B1, B2, D3 and has known skin-soothing properties.
Check out some quick pics. I couldn't show you my messed up lipstick tube. I'm so sorry it melted and looks kind of gross…speaking of gross my lips have been going through something. I am afraid that is why it looks a like I'm wearing lip liner in these pictures. I forgot to use my Tarte Maracuja Lip Exfoliant last night. I've been using that to help my poor lips lately and I'd recommend it if your looking for something good. Anywho hopefully you get the idea that this color is beautiful! Excuse me while I go exfoliate my bottom lip real quick…
Check this out soon if you are interested, this shade is limited edition!