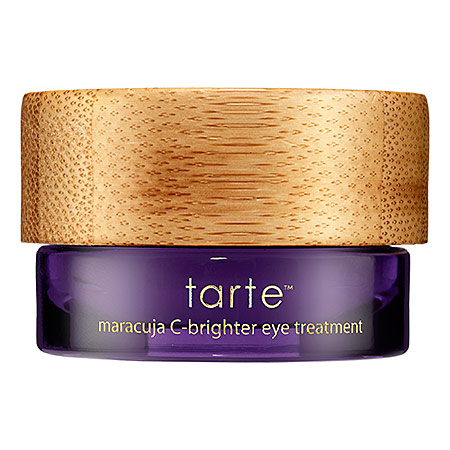 Tarte Maracuja C-Brighter Anti-Aging Eye Treatment, .35/$38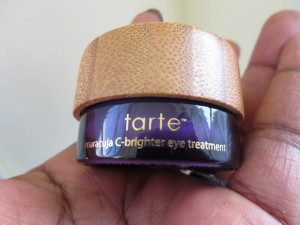 I am in love with this stuff! I picked it up at Ulta last month and I really wasn't expecting very much. I have a few eye issues and a darker than I'd like under eye area. I call them my suitcases….
I saw the Tarte C-Brighter presentation on QVC not long before my purchase and I wondered if I would see some results. Well after one week of use I noticed a change! Usually I wake up with a slightly purple discoloration under my eyes. Well not anymore! And after two weeks I stopped using as much concealer as I usually load up on. That's something that I never expected. I can't speak on any anti-aging benefits at this point but this cream is really doing a great job of plumping up and moisturizing my often dry hard to please under eye area.
Here's some information from Tarte on the QVC website-it's Item A228487:
"C" your eye area in a whole new light. Boasting C-brighter technology, this opthamologist-tested cream helps hydrate and brighten the look of eye area; soothe and smooth skin; and even resist aging signs and free radical attack. These invigorating benefits come courtesy of maracuja fruit, vitamin C, advanced botanicals, and oat sugars, along with antioxidant-rich rice bran, mango, and coconut.
The cream is smooth and moisturizing. It blends into my under eye area easily and leaves no trace of color behind. I've been using it morning and night and I'm thrilled with the results. I can put whatever concealer that I'm using that day on with no issues. It's not affected at all by the cream. The immediate benefits I've noticed are the fact that my under eye area is moist and kind of plumped up after application.
I think the brightness that occurs has something to do with the slight shimmery specks (that you can't really see unless you look for them) of very fine glitter thats in the formula. I only saw that at the end of week two on accident. I most likely never would have known had I not been outside looking at my messed up contact with a makeup mirror. I wasn't wearing any concealer that day so I think thats the only reason I saw it. I saw a little bit of glimmer but I swear you can't see anything day to day. I still can't see it unless I search for it in very strong, direct light. It's tiny but I love how instantly bright and awake it makes me look.
You can't even see it after you gently tap it into your skin! I use my ring finger to apply this under my eyes.
Ingredients:
maracuja oil
vitamin c
sodium hyaluronate
mango seed butter
coconut oil
Formulated without: parabens, mineral oil, phthalates, sodium lauryl sulfate, and synthetic fragrance
Check this out on your next trip to Ulta or look for it at Sephora as well. It's currently on qvc.com for $34 and they have an excellent return policy. I can't wait to see what happens after this week-it's week number 3 for me! I'm believing in miracles at this point! On QVC they say this container will last for four months. I use very little twice a day so I'm thinking thats true. I resist the urge to slather my whole face with this stuff daily hahahha!