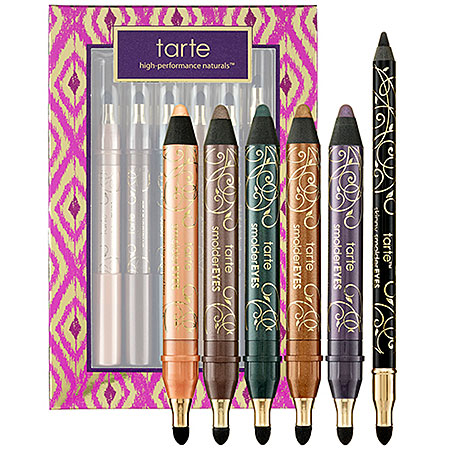 Tarte Eye Catchers SmolderEYES 6-Piece Set ($39)
I love Tarte SmolderEYES pencils. I use them as liners and shadows. If you are looking for a go-to quick eye look these are for you! Want to look great in two minutes? Take one of the colors above and draw all over your lid up to the crease and take your finger or the smudger end and smooth out any harsh lines that remain. Then add liner and mascara to both eyes and your done. Those are easy eyes baby! Ok they call them SmolderEYES but you get the idea!
For the holidays there is a new set out and I love the colors. I can use all of these pretty shades!
Gold is a pretty deep bronzy gold. Champagne is a perfect inner corner shade and fancy all over the lid color. Gunmetal is a silvery gray almost taupe shade that I'm going to use more than the others-its my favorite! Ash Violet is a nice shimmery purple. Rainforest Black is a deep green that is insanely opaque and rich in color. Can you tell I love them all? Well don't forget there is a deep black Skinny SmolderEYES liner in Onyx to round out the set. At $39 this is a holiday must see/must have.
Take a peek at some quick swatches. Click on a pic to make it bigger!
Onyx, Gold, Champagne, Gunmetal, Ash Violet, and Rainforest Black (top to bottom)
Just love em! They are so easy to use. I picked this set up at Sephora. It's on QVC.com and at Ulta also! Get it before its gone:)