Tarte LipSurgence Natural Matte Lip Tint-Envy, $24
I love these Matte Lip Tints from Tarte. I showed you one of my favorites called Lively it's a bright fuchsia pink. This is a more wearable shade but still beautiful. These Lip Tints feel great on the lips and despite being matte they aren't dry. There is a moisturizing yummy feeling going on here all day with this! There is a minty smell and feel on the lips. I love it but just be aware if things like that bother you.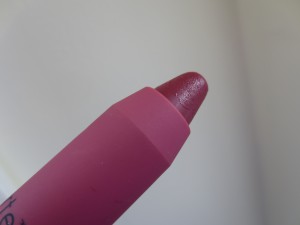 From ulta.com:
Just like the natural lip stains, Tarte's matte version is an extension to the best-selling and award-winning natural cheek stains. Just like the iconic cheek stains, each emotive, peppermint-infused shade smoothly glides on lips for a natural flush and matte finish that will stay all day. So say goodbye to reapplying your lip color throughout the day and say hello to a gorgeous pop of color and hydration that lasts!
Skinvigorating ingredients:
Vitamins A & E: anti-inflammatory emollients that protect against free radical damage
Carnauba wax: ensures a smooth application
Coconut extract: has known microbial and moisturizing properties
Peppermint oil: cools and soothes while freshening breath
LipSurgence technology: clincally proven to increase lips' moisture content naturally
Paraben free
Phthalate free
Sodium lauryl sulfate free
Petrolatum free
Synthetic fragrance free
Synthetic dye free
No Animal testing
This color is a perfect everyday shade for me. It's not really bright or too dull. It's headed into my makeup bag and kicking another shade out of my purse! I got this at Ulta and I would recommend it highly. There are some other really pretty matte shades if you are looking for a more natural lip look. I think I'm going to wait and hope they give us more of these shades in the Matte Lip Envy line. After purchasing the red matte shade Fiery I think I'm all done with these. I'll have to show you Fiery in a post its gorgeous!