Sometimes I'm really glad that I get to write a review instead of talk about a product on YouTube. I know I'd mangle the name of this lip gloss. I need to Google Maracuja after I finish this review because now I need to know what that is!
This new set of glosses from Tarte look really pretty. I picked Flush up at Ulta ($21) because I'm crazy about my pinks and I really wanted to try one of these. I did encounter a few issues. The first one being getting this gloss started. It was really hard to get the gloss out of the tube. You click the bottom like a pen and boy does it take a number of clicks to get started. I'm not a fan of the long blush applicator either.
Take a look at the applicator and all the colors below.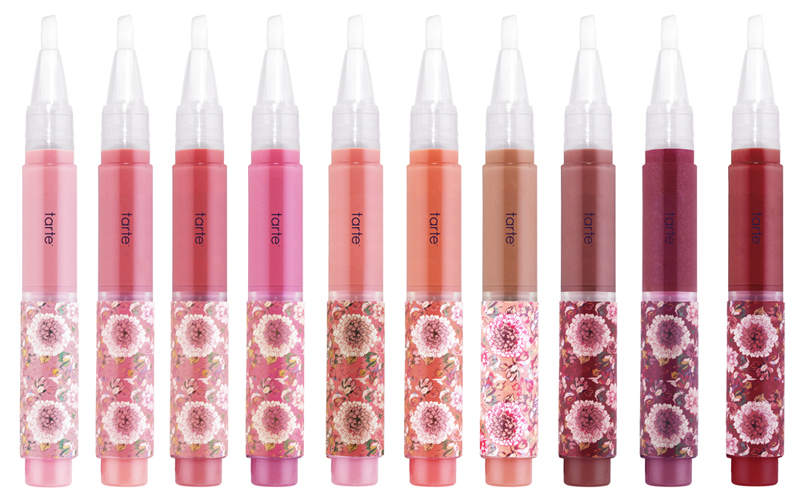 As much as I like this gloss I'm not a fan of the delivery system. There is a nice minty tingle when you apply it and it stays with you for a while after. The gloss has a pleasant smell too. I love scents and a bit of a tingle but if you aren't into that you might want to pass on this. Here is the description from the Sephora website, they carry this gloss as well.
What it is:
A moisturizing lip gloss featuring the skin-nourishing benefits of maracuja oil.
What it does:
This maracuja-infused formula drenches lips in cool moisture while delivering mega-watt shine and rich, glossy pigment. With a variety of rich shades ranging from soft to vivid, you'll find the perfect colors for day or night. Added benefits of this gloss include the minimization of the appearance of fine lines and wrinkles, giving lips a fuller, plumped appearance.
What it is formulated WITHOUT:
- Parabens
- Sulfates
- Synthetic Fragrances
- Petrochemicals
- Phthalates
- GMOs
- Triclosan
Size: 0.12 oz
With so many color choices this might be something to look into. For me it all comes down to how it looks and feels. I love the way it looks and it's not too sticky a gloss that gets a decent amount of wear to it. I usually get a good 4 hours out of it because it's a thick gloss in my opinion. Here are some pictures so you can see it on the lips. I think the sparkle is impressive!
I'm torn on this one. I love the one I've got but I wouldn't get another. Check it out at Sephora or Ulta and see if there is a shade you can't live without.
Rated B