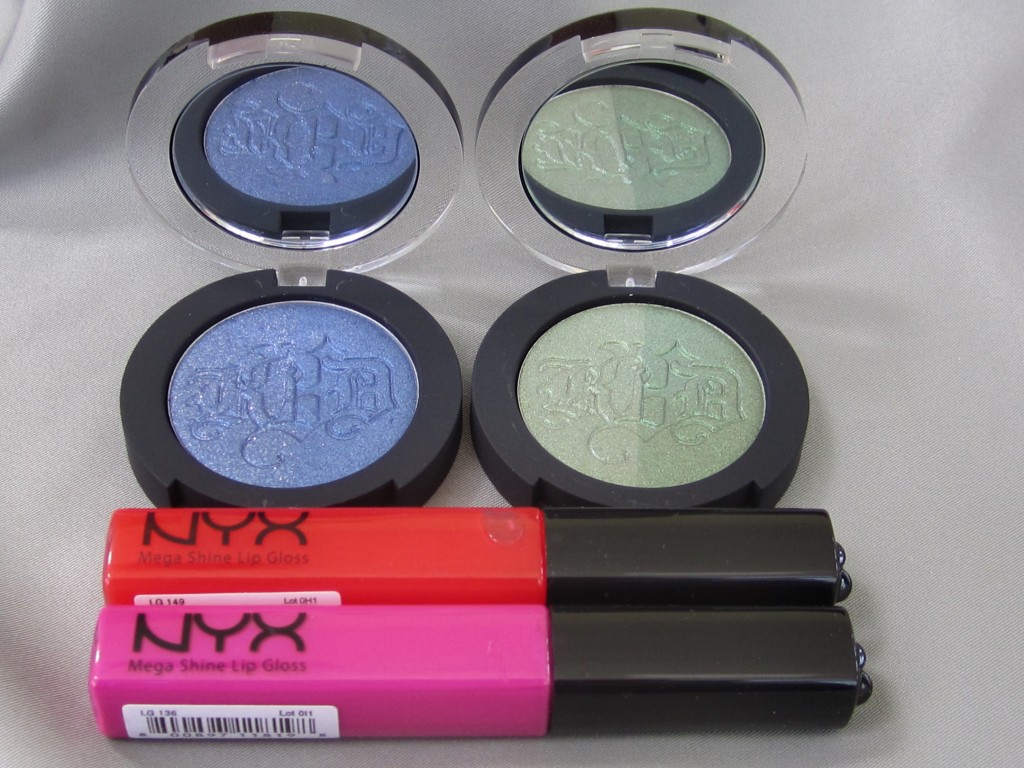 Giveaways are fun aren't they?! I mailed a bunch of TGIF Giveaway stuff this week and I had 3 International winners! Woo hoo!
Have you ever tried a Kat Von D eyeshadow? I have several of these duo's and palettes and they are fantastic. Pictured above are two beautiful duo's from Sephora. They both have a shimmer side (on the left) which I think is so cool. The blue is called Moonshine and the green is called King Cobra.
NYX Mega Shine Lip Gloss is beautiful. If you haven't tried one of them before then I really think you will like them. The red shade is called Juicy Red, it's a nice clear glossy red. The pink is called Dolly Pink. What can I say, both are gorgeous!
Giveaway ends on May 6th!
Rules:
1-Comment/Leave a Reply on this post ONCE and let me know which you like more in your everyday routine, lip gloss or eyeshadow? Which of those two do you use most?
For me I think it's lip gloss:)
Make sure you leave the best email address to reach you at in the Mail: Will not be published/required area. Ok? Only I can see your email address if you put it in that area.
2-One entry per person, international readers welcome. I have to mail this to you, only enter if that's ok!
I'll contact the winner on May 7th by email!