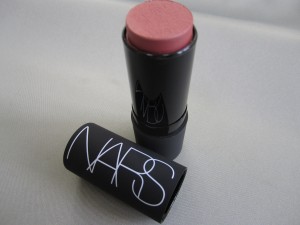 Nars Malibu Multiple…it's just beautiful. It's a nice pinkish brown shade. This is a full size (.50 oz.) tube that retails for $39.
Nars multiples are really fun because they can be used on your cheeks or lips or even your eyes! It's a multi purpose product and great for the spring/summer when you might want to use products that multi task for your beauty routine.
Giveaway ends on May 15th!
Rules:
1-The winner will be a Facebook friend so Like Us on Facebook if you haven't already-you can do that on the right side of this website. We are on Facebook as crystalis007.com.
2-Comment/Leave a Reply on this post ONCE and let me know where your favorite place to get cosmetics/makeup from. Is it at the drugstore, high-end cosmetics counter, or Sephora/Ulta? Or online?
My favorite is SEPHORA:)
Make sure you leave the best email address to reach you at in the Mail: Will not be published/required area. Ok? Only I can see your email address if you put it in that area.
3-One entry per person, international readers welcome. I have to mail this to you, only enter if that's ok!
I'll contact the winner on May 16th by email or Facebook privately!