the Balm Meet Matt(e) Nude, $42 (thebalm.com)
I love a matte palette in the morning. Absolutely love it! I saw this in an emilynoel83 video on YouTube and lost my mind. I saw the extra large size shadows and have loved every palette that the Balm ever made so I was on board. Call me an early adapter. The Balm makes the smoothest best shadow textures I've ever come across and thats saying something. I don't know if you know this but I have come across….A LOT.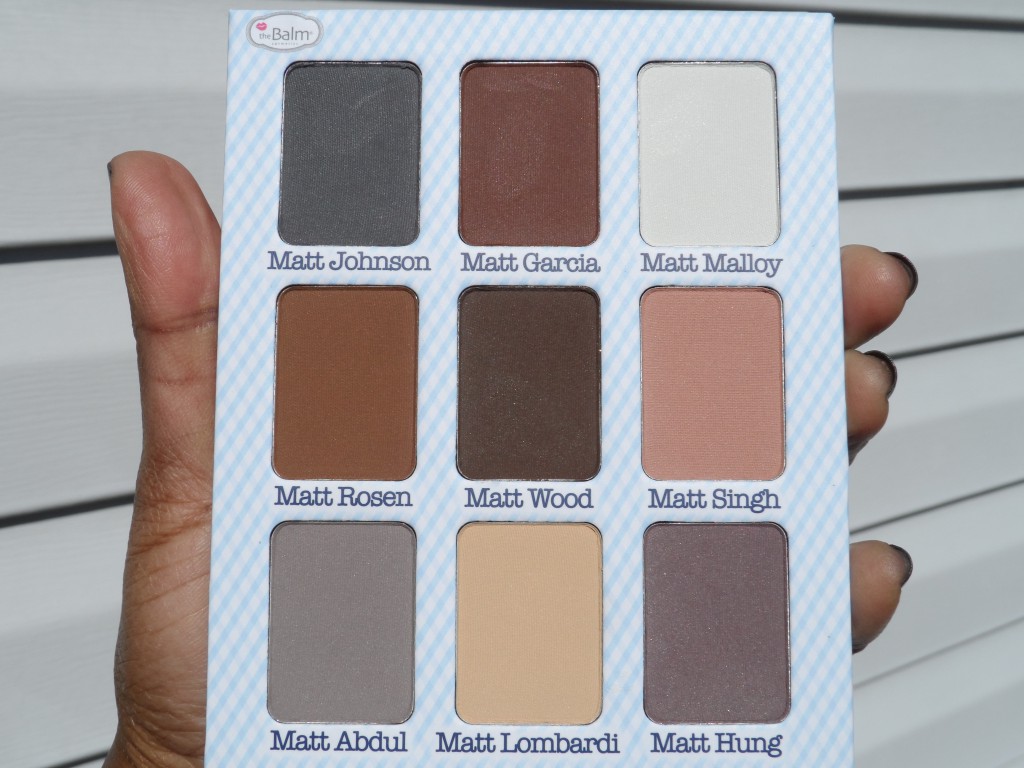 Now if you don't like mattes this isn't going to change your mind. But if you do CHECK THIS OUT!
Matt Johnson, Matt Garcia, Matt Malloy, Matt Rosen, Matt Wood, and Matt Singh
Matt Abdul, Matt Lombardi, and Matt Hung
Matt Johnson, Matt Garcia, Matt Malloy, Matt Rosen, Matt Wood, and Matt Singh
Matt Abdul, Matt Lombardi, and Matt Hung
Did I mention these shadow shades were smooth as all get out? They are. I love this thing. The grays are everything. Matt Johnson, Matt Abdul, and Matt Hung (not really a gray more of a purple) rule my world right about now. I get lots of questions about using matte shadows and the biggest piece of advise I can give is that you don't have to do a completely matte eye. Don't feel the need to skip shimmer when you use matte shades. You can mix things up by adding shimmer. I think incorporating a little matte love into your routine will do you some good but it doesn't have to be all you use.
I love quite a few of these shades but there are a few that I am not thrilled with. Matt Malloy isn't a shade I used much. It's a stark white shade. Since the Balm shadows are so pigmented this one isn't a good fit for me. Even blended out its wayyyy to bright of a white for this girl! Matt Singh is a little easier to blend out for me and easy to use. Matt Lombardi used with a light touch blends out beautifully as well. Everything else is perfect. As you may notice in the swatches above I AM Matt Garcia or Matt Wood when I'm ashy ha! These two are so close to my skin tone its crazy. Love it!
If you follow me on Facebook, Instagram, or Twitter you know that this palette was on Hautelook for half price ($21) recently. What a freakin deal! I suggest you wait for the next sale to get this and skip paying full price. At $42 this palette is a wallet buster but for $21 it's a steal. If you love matte shades or want to get into using mattes this is the palette to go for. I picked up the original Meet Matt(e) Eyeshadow Palette for $16.99 and love it too. I got that palette at TJ Maxx. I'll let you know if the Meet Matt(e) Nude shows up there. I would love to see that.