I tried this "system" out at Saks with the help of a really nice Bobbi Brown associate. I was so happy with the results that I picked all three products up. I'm going to be testing all three items out over the next few days to make sure it's a good fit for me and my eye baggage. Used all together the products produced a startling result, not a trace of under eye darkness! These products can be purchased separately though at your favorite Bobbi Brown counter or online. I just happened to like all three.
I do need to see how natural this looks when used with all my favorite foundation colors from different brands. I'll let you know what I think soon!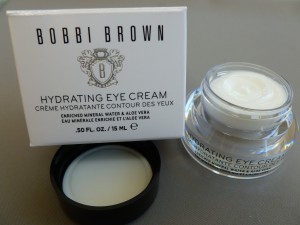 Step 1:
Bobbi Brown Hydrating Eye Cream ($46/.50 oz.)- This should be tapped gently around the eye area. You should wait for this to absorb into your skin before moving on to Step 2.
Step 2:
Bobbi Brown Corrector in Very Deep Bisque ($22/.05 oz.)- This corrector will neutralize my under eye discoloration. This looked sort of peachy/orange when placed under my eyes. At first I thought why do I need this but it really takes away the grayness under your eyes and brightens the whole area but you wouldn't want to stop here with this step. It's too bright! There are 12 different corrector shades available.
Step 3:
Bobbi Brown Creamy Concealer Kit in Almond ($32)- Conceal (left side) and set your look with pressed powder (right side) with this kit. I love the color match and the powder on the right is impressive, trust me. I was worried about the lightness of the powder against my skin tone but it's perfect. There are 14 different Creamy Concealer Kit shades available.