Revlon Rich Girl Red Lipstick & Fatal Apple Lip Gloss, $8 each at Rite Aid
When I picked up this combo months ago I wasn't sure what to expect. Revlon Rich Girl Red #830 lipstick has a Shine finish and thats new to me. I love Revlon lipstick as you may know so I was excited to give it a try. I was expecting a super shiny red especially after looking at the model's lips in the display. What I got was a very shiny lipstick that was kind of light on pigmentation. It is not a deep red lipstick shade. Its about as shiny as it is red. Because of the shine the blood red I thought I was going to get wasn't there. Think very light lip butter red. It's not exciting. I never wear Rich Girl Red alone. I know I should show you what it looks like alone but its so darn boring. I kind of hate it.
Fatal Apple gloss is super shiny and more pigmented than Rich Girl Red to me! I always wear these two together and I kind of love the look. It's kind of a more wearable red thats great for those that don't want a super deep red lip but love a lot of shine. This is a great juicy lip look so I had to share it because I know that red lips can be alluring but scary to some. I think this is easier to pull off.
But this is just dead sexy right?! I think so!
If you like this type of lippie look I suggest you check out Revlon's Shine finish line of lipsticks and the Super Lustrous Lip Gloss shades. Together they look really nice and its a great way to wear red or fuchsia in a less intimidating way. The funny thing is I don't like Fatal Apple gloss as much on its own. The lipstick provides a really nice depth of color. Strange huh? I do have one serious critique. The Super Lustrous gloss wand is horrible. Its short and just about useless. I need to dip like four times to get the amount of gloss that I want. Its so annoying.
Want to see some other combos I have? Here we go!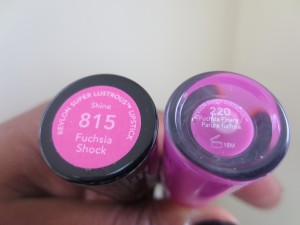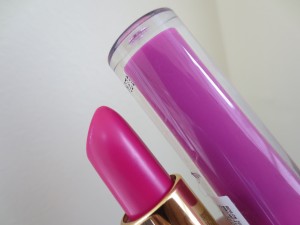 Revlon Fuchsia Shock Lipstick & Fuchsia Finery Lip Gloss
Here's another one for you purple lovers! This is just a slight twist on the combo above that leans a bit more purple.
Revlon Berry Couture Lipstick & Fuchsia Finery Lip Gloss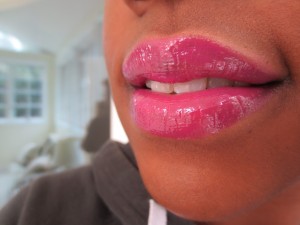 Have you tried any of the Shine finish Revlon lipsticks or the new range of Super Lustrous glosses? Do tell!