Image: Nouveau Cheap
I picked up some of the new Maybelline matte lipsticks and I already told you I loved them in a recent Makeup Monday video on YouTube. Now I thought I'd put some lip swatches up so you can see the pretty colors for yourself!
My review on these is really simple. There isn't any smell or taste with these lipsticks and at $5.49 they are a steal! The only other thing that I feel it's important to note is that your lips should be in decent condition before you slap these shades on. Fake it with a thick balm if you need the extra moisture but peeling lips and these lipsticks do not mix! They are creamy mattes as advertised and smooth on like butter but your lips can't be very dry or flaky. I find that I am able to wear these four hours or more depending on what I'm eating and drinking. I love them and am really happy with the six I got.
I'll show you three today and the others this weekend.
First up Faint for Fuchsia #675. This is a super fiery fuchsia that shows my lip lines a little bit but I still love it!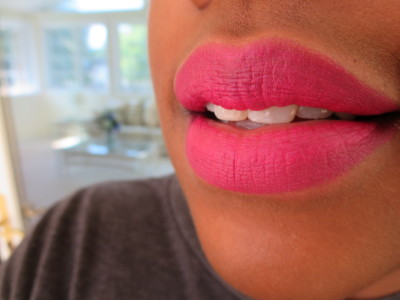 This may just be my favorite. Mesmerizing Magenta #680. I lurve this one! It's the perfect slightly deep burgundy pink color.
And this….Siren in Scarlet #690. Absolute perfection in a tube. There are no words….except get this one pronto!
Check these new Maybelline lipsticks out at Target and other drugstores. The nice thing is that they are permanent!! Woohoo!