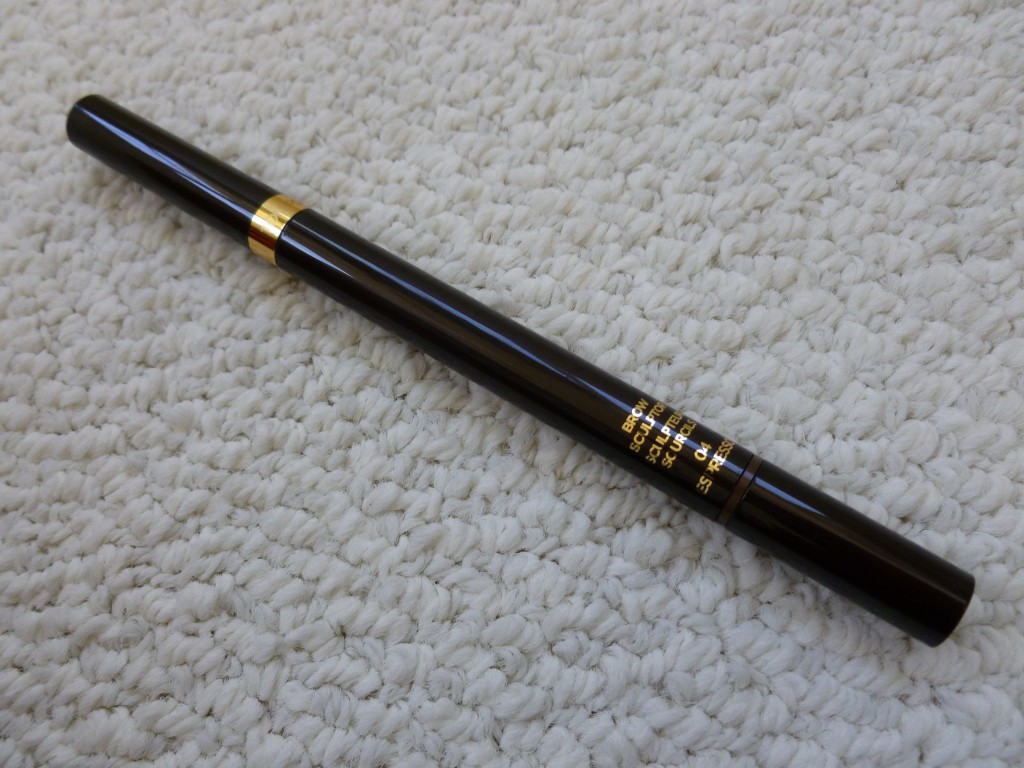 I hate working on my brows. I know they are important to your overall "look" and that maintaining them is really important. But….like many people I was not blessed with brows that behave. In fact my brows do their best to piss me off daily. I've found quite a few products that help me tame my brows but the Tom Ford Brow Sculptor is hands down the fanciest thing I've ever used.
I read several reviews on this and they all raved. And now I am gonna rave too!
The picture above (left) is the actual espresso pencil and I love the shape of it. It's the perfect shape for doing the inner eyebrow area and easy to angle out the tail end of my brows. When you think of a pencil and how working with it is and then take a look at the shape of this sculptor maybe you can see how this makes it easy to cover a lot more ground faster. It's genius. I mean this is the difference between using a ink pen and a highlighting pen/marker. You get the look you want faster and its more perfected because its so much easier to angle and do a fat line or a thicker one where you need too. The other (right side) picture is of the cute brush for brows. I use that when I start the whole process usually. I brush my brows around to figure out what I've got to work with.
You can unscrew the brush from the Brow Sculpter to reveal….ta da….the sharpener. Thats on the right side of the picture above. I don't know about you but the first thing I thought when I saw this was how in the world do I sharpen it? Don't worry you can. Is it my favorite sharpener ever? No. But it works.
Now that we hopefully got the mechanics of this thing out of the way lets talk about the regular stuff. The texture is fantastic. It's not too waxy or too wimpy! I love the shade Espresso it seems to be just the right color to fill in my deep brown/almost black brows. Oh and the thing that really makes it a stand out for me is that it works just as well on top of hair (makes wispy hairs look thicker) as it does on areas where you are trying to "make" hair. I have very few actual hairs in my inner brow area and I have like nothing on the outer "tail" of my brows. Unless you count those three individual hairs that are holding on for dear life.
To me this is a great tool to use. I find that I can work with this quickly and get a really arched professional looking job done all by myself. There was a learning curve. The first few days I was not loving this but I had to get to know how much pressure to use. A light touch is best. I looked a little cartoonish during the first two days and looked at myself later in the mirror and mumbled WTH???? So use the right amount of pressure please. You don't want anyone laughing at you.
The price is high. It's $42. Insert heart attack here. There are four shades available. Blonde, Taupe, Chestnut, and Espresso. I would buy another one in a heartbeat. Check it out if you have a Tom Ford counter near you!
Rated A