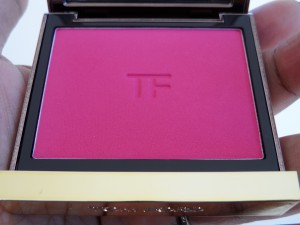 Tom Ford Narcissist Blush, $55 (Limited Edition)
When I saw this blush I lost my mind a little. Not a little ok A LOT. It's just the perfect bright fuchsia blush and I have nothing like it! I got it from Neiman's and just looked at it for a few weeks. Seriously I did. I couldn't touch it.
See? I just looked at this darn blush for weeks! Ok here are some swatches. This is a bright shade and I use serious caution. If you are a fair skinned girl use SUPER SERIOUS caution. This does have great lasting power and doesn't fade out later in the day which is good. It's bright and beautiful all day long.
Love this. It's limited edition so hunt this DOWN quick! So glad to add this to my stash. Do you like TF blushes? I have one other shade called Flush and I use it but Narcissist is really becoming a staple. I think that's it for me for a while from Tom Ford. Can't throw down $55 on a blush often. Maybe in 2013 I'll get another:)