Too Faced A Few of My Favorite Things, $56 at Sephora
I loved the Sound of Music as a kid. We watched it every year on TV faithfully. So I knew I wanted to check this palette out from Too Faced. Once I started looking at the eyeshadow shades I got really excited. Ok SUPER excited. I love pigmented smooth shadows and Too Faced is always a good brand to bet on. They don't make many mistakes!
Take a look at the swatches for these shades!
Snowflakes, Whiskers on Kittens, Chocolate Milk, Moon on Their Wings, and Dark Chocolate
Cream Colored Ponies, Honey Honey, Buche de Noel, Evergreen, and Blue Satin Sashes
Coquet, Taffy, Crisp Apple Strudel, Woolen Mittens, and Soiree
Tinsel, Bluff, Ooh la Orchid, Party Time, and Pure Glam
I love this palette! These colors are amazing. I mean they covered so many finishes and types of shadows. There is something for more natural looks as well as some crazy/fun looks. By that I am talking about the beauty that they are calling Party Time. Now thats a cool shadow. Blue Satin Sashes isn't half bad either. I even like the blushes! Melt into Spring looks so great on. My cheeks love it. And Sun Bunny is really pretty on my lids!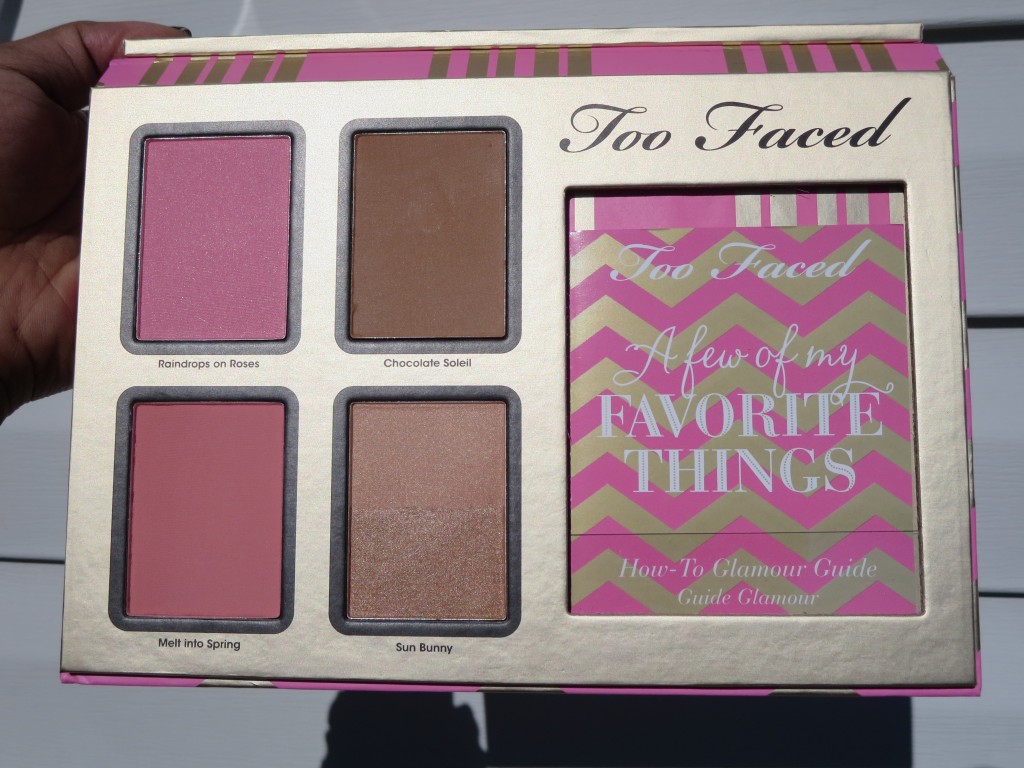 Raindrops on Roses, Melt into Spring, Chocolate Soleil, and Sun Bunny
I am going to pass the included Lip Injection Color Bomb shade Bee Sting on to a friend. It's a bit light for me. The mini Better Than Sex Mascara has another friends name on it. I was not a big fan of the full sized tube when I tried it not long ago. It's not horrible but its not something I'd purchase again either.
I think this is sold out on the Sephora website. I highly recommend this one. Get IT if you come across it.