I got this a while ago from Ulta and I think its one of my favorite Too Faced eye collections ever. It's called Natural at Night.
At $36 this palette is an investment but these colors are worth it in my eyeshadow maniac opinion! I am an eyeshadow hoarder lets face it. But let me show you some more pictures and hopefully you will see what I mean. Here is a close up of the whole palette. Please excuse the stray piece of whatever in the bottom left corner…HAHA! Oh and the finger imprint I left in the shade Eclipse!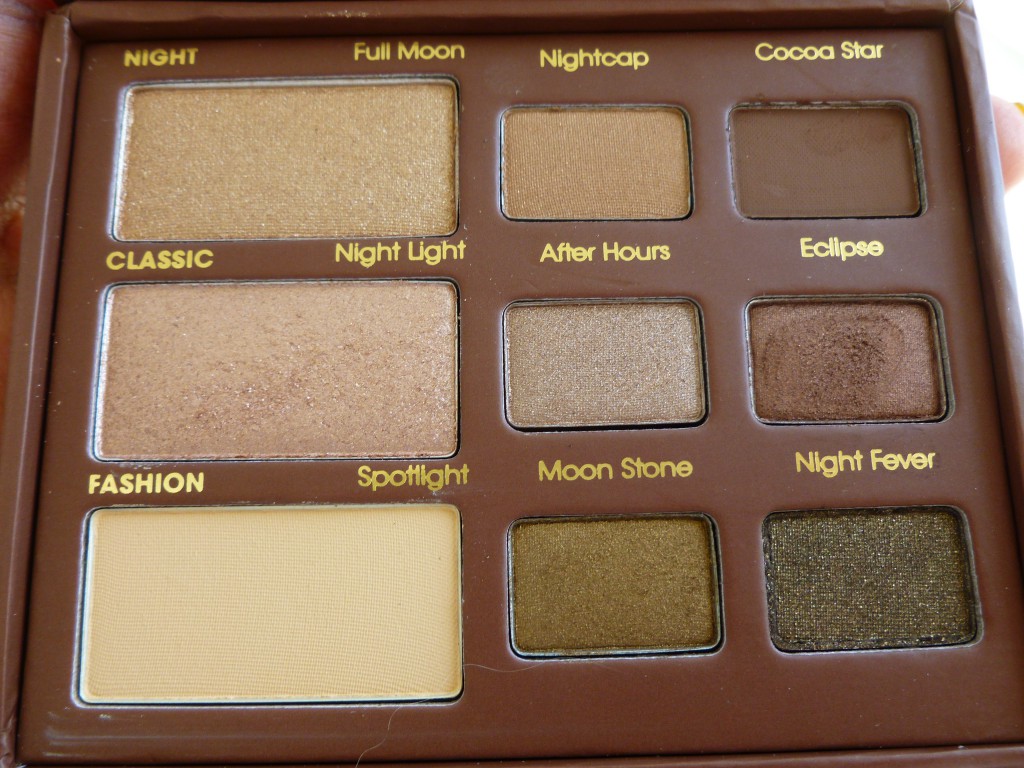 Such pretty colors! Here is some information from the Too Faced website on the palette:
What It Is:
Introducing a sultry, nighttime version of our best-selling Natural Eye Collection! Intensify your evening makeup with this array of seductive, warm shadows that will take your look from sundown to night-on-the-town. These nine tempting shadows in a variety of highly-blendable matte, shimmer, and glitter textures add instant after-hours glamour to any natural look. (A $76 value for $36)
More To Love:
Naturally Sexy: A collection of nine, complimentary shadows are the perfect palette of sexy, late-night neutrals.
Tempting Textures: Pigment-rich, high-performing shadows offer a sophisticated range of tectures from velvety mattes to silky shimmers.
How-to Cards: Three, easy-to-follow, how-to cards show you how to create Night, Fashion, and Classic looks.
Using this palette is fun. There are so many pretty color combinations and my only critique is that I wish that the dark brown matte shade called Cocoa Star wasn't the only matte shade. I think another matte shadow would have really set this palette off well. The How To Cards included inside the palette are great and really help with ideas on how to put these colors together. I took some very quick swatches and I'm not sure they will be that helpful but here they are anyway!
I love this palette and you can get it at Ulta or the Too Faced website.
Rated A