Too Faced Pretty Rebel Palette, $46 at Sephora
Have you seen this palette yet? I wanted it from the beginning but held off. I figured do I need another palette really? Ummm yeah I think you know the answer to that but hey I got it! Even on the front of the box it says Badass Beauty Eye Shadow Palette. That's like an engraved invitation ain't it?
There are ten beautiful shades in this one and I can't be the only person that is kind of happy that Too Faced made a palette that wasn't in a square box this time. I love the box palettes they've done don't get me wrong. Natural at Night and the Matte Eye Shadow Collection are great. But I love an old fashioned palette and this is one of the most exciting ones to come out this year.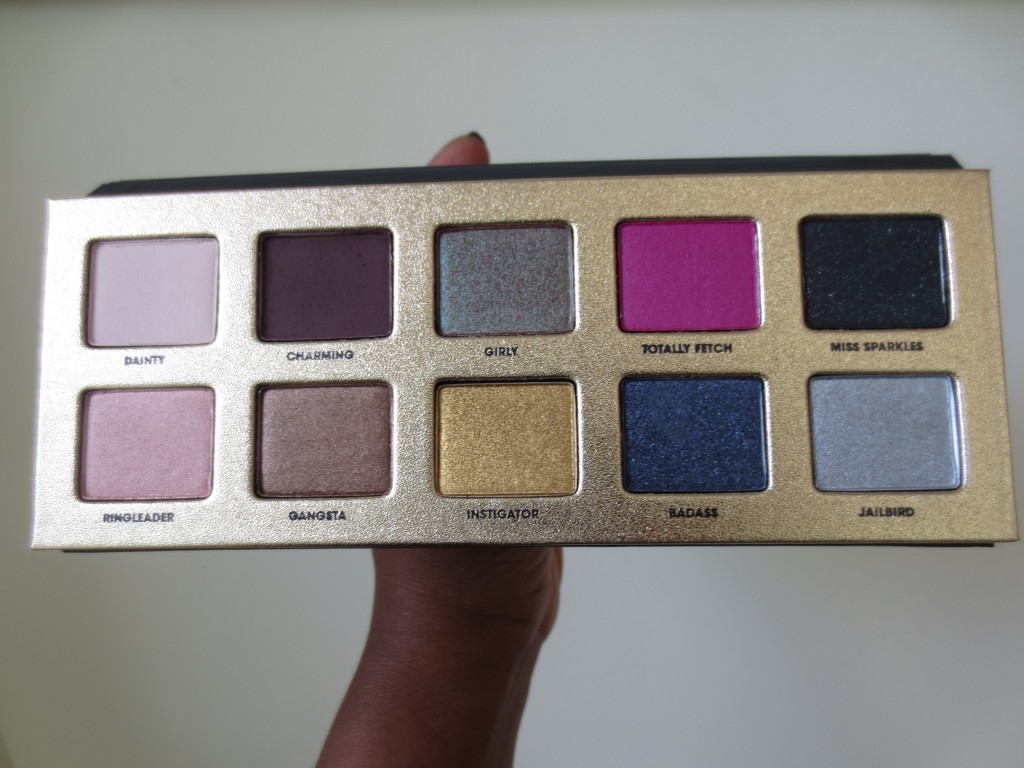 So lets get to those eyeshadow swatches! Remember to click on a picture to blow it UP….
Dainty, Charming, Ringleader, and Gangsta (left to right)
Girly, Totally Fetch, Miss Sparkles, Instigator, Badass, and Jailbird (left to right)
So can you tell these colors are pigmented? They are. Some of them are so pigmented that they feel like cream shadows. Jailbird is one of those. Wow…holy pigmentation Batman. Love it! I played with a few of these shades and I can tell you that Girly and Gangsta are my favorites. I also love the deep brown Charming shade. I can't wait to use Totally Fetch in a look. Thats going to be fun and a little crazy looking. The colors with silver flecks like Miss Sparkles and Badass have some fall out but tap your brush before application and that will help. The silver flecks ended up on the top of my cheeks after applying color, I dusted them off and went in with a makeup wipe. I did notice that there wasn't any fallout through the day which is good.
From sephora.com:
What it is:
An extraordinary range of stunning, high-pigment shadows for rich color payoff in 10 new shades.
What it does:
Be as rebellious as you want to be with this palette of 10 after-hours approved shadows in the deepest jewel tones, the prettiest metallics, and one scene-stealing pink. Also included is Too Faced's signature Glamour Guide containing three eye looks that were designed to take the guesswork out of getting gorgeous.
This set contains:
- 10 x 0.05 oz eye shadow in Dainty, Charming, Girly, Totally Fetch, Miss Sparkles, Ringleader, Gangsta, Instigator, Badass, Jailbird
What it is formulated WITHOUT:
- Parabens
What say you? Did you pick this up or do you plan to? I'm glad I caved because it seems like getting this was meant to be. I am sort of a badass and so are you right?