This lipstick gets the award for best formula that's new to me in 2014. Seriously its like butta! It feels so great on the lips and has so much pigmentation. Outstanding!
I had gotten a ton of requests to review Topshop makeup since they became available on the Nordstrom website. This lipstick The Damned was one of the first things in my cart months ago because I had heard things. The streets were talking-and this was the thing to get. I got a few more things but this had me excited. When I tested it out for one of the Chopping Block series videos months ago I gave it a rave review. The formula is top notch and the color is just beautiful. A perfect berry shade.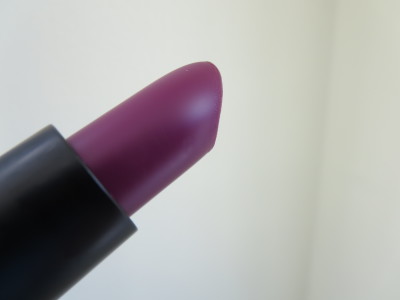 I think this looks a little lighter on my lips than it does in the tube. But thats okay. Once it's on my lips it doesn't matter. It looks and feels amazing. Berry goodness!
In the description on the Nordstrom website these lipsticks are described as having a velvet finish and I have to agree. I can't even describe the texture. It's almost like a lip butter but not as shiny. The color spreads evenly and perfectly in one coat. Check these lipsticks out. They are $16 each and there are plenty of shades on the Nordstrom website and I would love to order more! There is no scent or taste which is nice and this wears off very slowly during the day. I can go four or more hours without touching up and there isn't a lot of transfer onto cups or glasses because the formula is really durable. This isn't a lipstick you are going to have to babysit during the day at all.
Here is a shot with more light. With my shirt and all I feel like the pictures kept showing up very warm so here's another. I think The Damned is beautiful in any light though:)