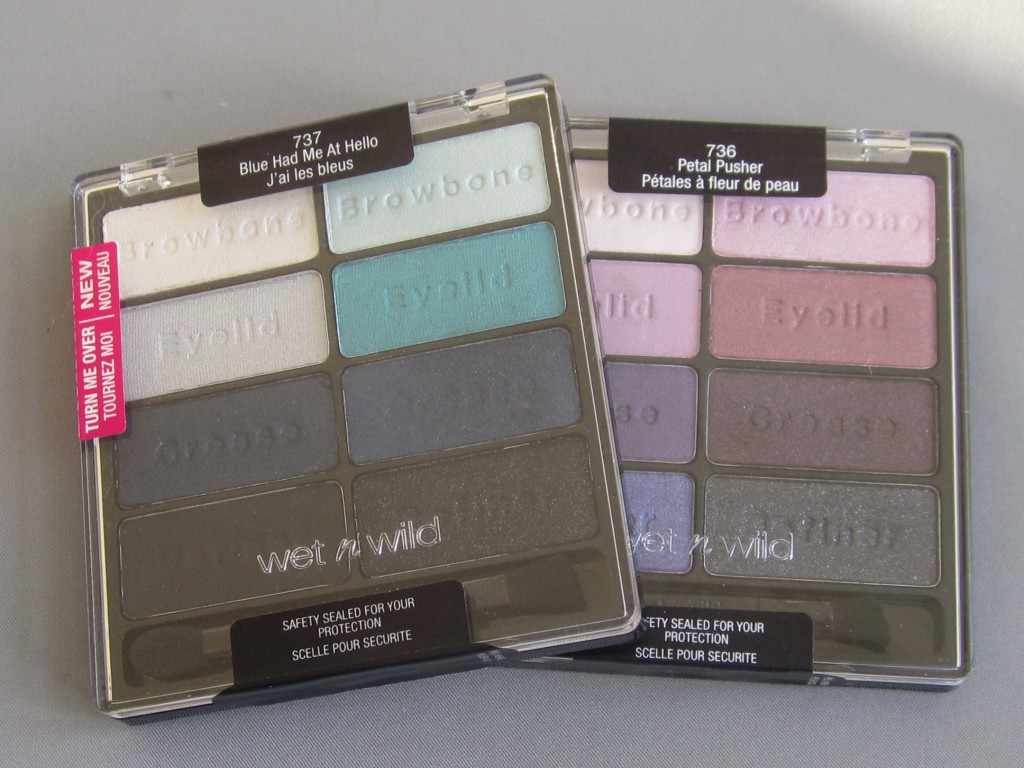 These eight shade palettes from Wet N Wild are kind of amazing. I remember my hunt to get them months ago. There are three all together and I had to call around to quite a few Walgreens in my area to find them all. The quality and payoff for these shadows is excellent. They are so pigmented and at $4.99 each the best deal around. But they are hard to find and then when you do find them sometimes they break. These shadows are fragile as hell. The simple act of your cashier dropping them into your store bag can crack the shadows. You have to be really careful and ask the person ringing you up to be careful too.
These two palettes pictured above are from CVS. They have the Wet N Wild eight pan palettes now. I saw them yesterday for the first time. For a long time these palettes were only available at Walgreens so I am glad more stores have them now. Here is a closer look at my palettes and I took some quick swatches of them in case you haven't seen these two palettes up close. Go ahead and click on the pictures to see even more detail in the swatches.
First up, Blue Had Me at Hello #737.
This is such a great palette of blue shades. I love the silver shade (left picture above, second color down) and the different types of blue are everything that you could ever want. And the teal shade…is perfect for this palette. Up next, Petal Pusher #736.
I'm a purple lover so this is kind of my favorite palette out of the three. I love all the purple shades and the glittery burgundy crease shade (right picture, third shade down) is something else. As you can see my palette cracked because I dropped it on my counter too hard.
So now that I have swatched my palettes for you, lets talk giveaway rules/terms!
Giveaway ends on September 27th!
Rules:
1-The winner will be a Facebook friend or Google Friend so Like Us on Facebook if you haven't already-you can do that on the right side of this website. We are on Facebook as crystalis007.com.
OR you can be a Google Connect Friend that's on the front right side of the site also under the YouTube video box-if there is an error message type in www.crystalis007.com again in your browser. A fresh page usually gets rid of that error message.
2-Comment/Leave a Reply on this post ONCE and let me know what your favorite Wet N Wild item is. Is it a specific lipstick, nail polish, or eye palette that you have from them that you love? Let me know if you have any favorites or if you don't have any Wet N Wild products at all. That's ok too!
Make sure you leave the best email address to reach you at in the Mail: Will not be published/required area. Ok? Only I can see your email address if you put it in that area.
3-One entry per person, international readers welcome. I have to mail this to you, only enter if that's ok!
I'll contact the winner on September 28th by email or Facebook privately!
Good luck everyone!