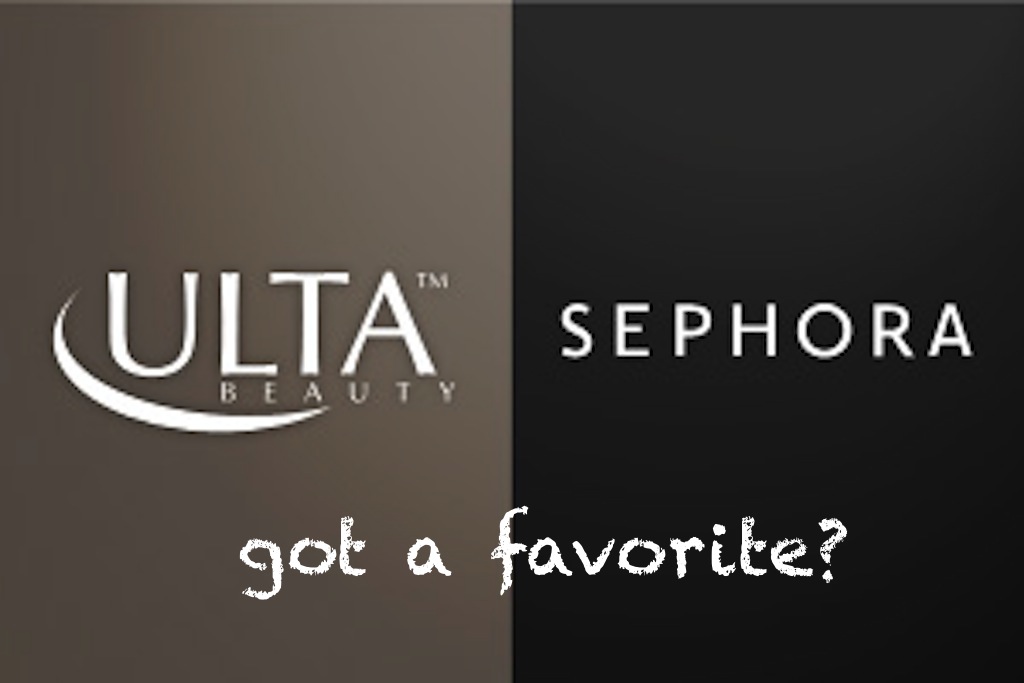 This is an age old makeup lovers question. I debate this with friends at length. I have a favorite. I am firmly in one camp and I have been for a while now. I'll tell you briefly why the turnaround. I'd love to hear from you why you have a favorite-as always we don't have to agree but I really like to hear what you think! Part of my preference does have to do with my local stores. That is something I can't control but has helped tipped the balance most definitely.
Sales-I love them but who doesn't right? Well one of these places has a sale on something/anything constantly and the other doesn't. Ok when they do its a special occasion but like my momma says who needs a special occasion to say I love you? By the way I associate makeup sales with love don't you?
Store Employees-This is a hard one to express. I like talking to people. I end up gabbing with people all the time about anything. I think I'm friendly and polite but do not hound me in a store please. Part of the fun of makeup shopping for me is wondering around and forgetting everything else. The guy that cut me off on the exit fifteen minutes ago and how chunky my thighs feel currently. I would love to say hi back to you and then if I tell you I'm just looking around…please don't follow me. Don't tell me something about each thing I pick up for the next few minutes. I pick up EVERYTHING. Please drift away because I'll get a look on my face that I can't control. Its the "do I look like I need help girlfriend?" face. It's not a nice one and I don't like pulling it out. I feel horrible about it but your ruining it for me. I just wanna have a little look around and swatch things and find something pretty!
Merchandise-I love a little bit of everything but above all keep getting new brands in the store why don't ya? I don't expect several new brands every month but if a brand is good and competes with other product lines you carry bring it on IN. I want to see it…like yesterday! It really works for both of us. You want to be my one stop shop? Then carry both brands of concealer I'm considering. There is a good chance that I'll walk out with one of them right?
So who's my favorite after having said all that? Ulta. I used to be a die hard fan of Sephora. I used to live for and love the place like cooked food. Now…I'm all about Ulta. There's always a sale at Ulta. I do get confused with those 20% off coupons with exclusions (and figuring out what they mean) but hey at least I'm gonna save on something! At my local Ulta they roll by you in store say hi and ask if you need help. It's a drive by and I love it. They all do it and even if several employees do it you don't mind cause you barely have to look up from what you are doing. They give "essence of employee" and I love it. You know they have people working cause you've kind of seen them but no one has gotten in your face and noticed that you have a few blackheads you should have covered up before you left the house.
Ahhhh and the merchandise. They are good about that also. Putting Mally, It Cosemetics, Jane, and even the Kardashian's has kept Ulta interesting for me. Oh and Perricone MD-that was a genius move!
So tell me your favorite and why if you'd like! I'd love to know what things are like at your local store or if you prefer one or the other when buying online. That's a whole other post topic ha!