I am really picky about black eyeliner. I like a true black (the blackest black baby!) shade in my eyeliners without any type of blue or green tint. So many of the liners that I have tried have failed me. I tried Urban Decay Zero in the past and was not happy with the depth of the black color. In my opinion its something that I used up to get my money's worth and then tossed at the first opportunity. I was so glad when it was down to being a nub. I threw it away happily.
Many of you guys told me to pick up Perversion because it's a serious and true black. I've been using it for weeks and once again you guys have nailed it! I'm kind of in love with Perversion and its been on my makeup counter continuously.
So let me tell you what I love. It's super black, stays put in my water line, and…this is a big one. It dries to a not too shiny black finish. I am not a big fan of glossy black liner. Any black liquid liner will give you that effect. I want something way more matte in a pencil. Perversion is smooth as butter going on. So smooth in fact that it does look a little glossy going on to me. Maybe its my trick eyes but I swear it dries down to a more matte finish in seconds. Love….
I am so sorry I couldn't find my Nars Via Veneto liner for this post. It's another favorite black liner of mine but I seem to have misplaced (I hope!) it. I did want to compare a few of my favorites for you so you could see them alongside Perversion.
I have swatched from left to right of Mac Smolder, MUFE Aqua Eyes Mat Black OL, Smashbox Limitless Eye Liner Onyx, Mac Feline, and Urban Decays Perversion.
Mac Smolder, MUFE Aqua Eyes OL, Smashbox Onyx, Mac Feline, and Urban Decay Perversion (sunlight)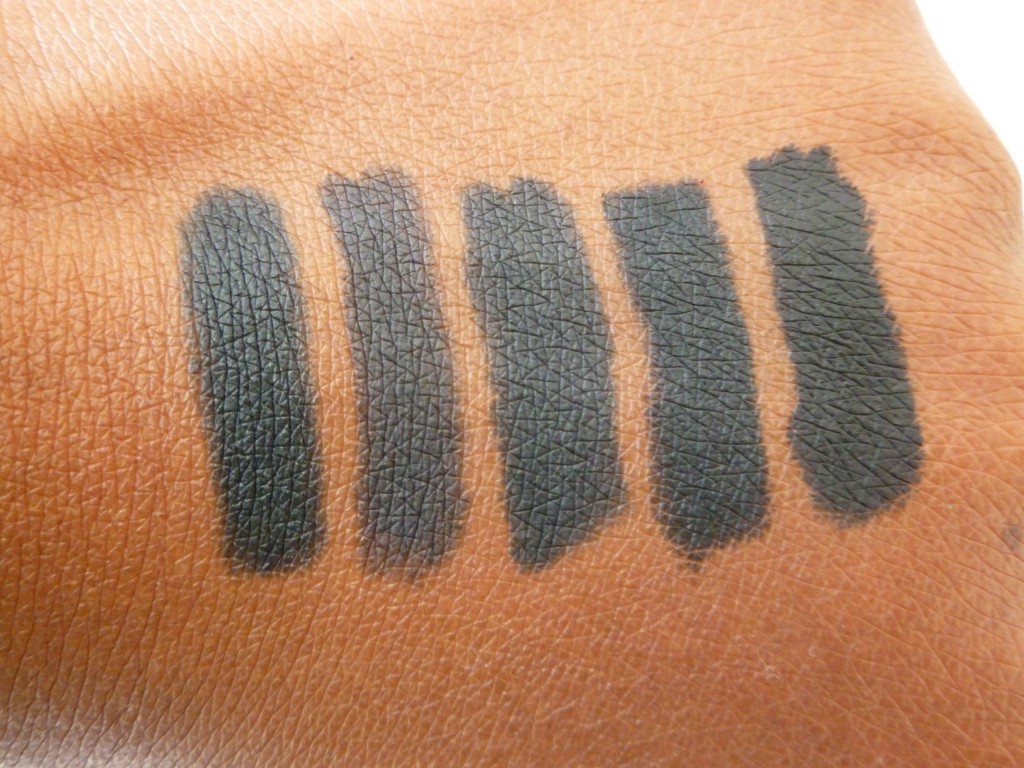 Mac Smolder, MUFE Aqua Eyes OL, Smashbox Onyx, Mac Feline, and Urban Decay Perversion
Now the stand outs of this bunch are Smashbox Onyx and Urban Decays Perversion. I love the color and staying power of these two liners. Mac Smolder smudges easily on me and disappears on my waterline. MUFE's Aqua Eyes Mat Black OL just is a little too light black for me. It stays a few hours in my waterline but it's getting to the nub stage and I can't wait to throw it out and end my misery. Mac Feline is a deep gorgeous black but travels all over my eye area smudging and making me look like I just don't care anymore. Which is fine but most days I do care! And I hate to mention my missing Nars Via Veneto but it is tops too-right up there with Smashbox Onyx & Urban Decays Perversion.
Perversion is sold separately now for $18. I got mine as part of a holiday kit. If you have the opportunity to swatch this please give it a chance. I would definitely repurchase this liner.
Rated: A+