Revlon Just Bitten Kissable Balm Stain-Romantic, $9.99 at CVS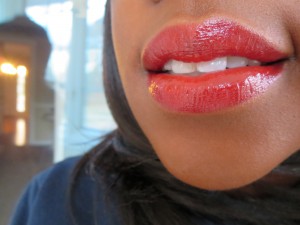 It's never too early to prepare. I'm over a month early but I'll be bringing you more reds thats for sure. Romantic is just about the perfect inexpensive lip color for Valentine's Day. It's a beautiful red stain that makes your lips look kissable (hence the brand name) and it's under $10! Score. I am new to the Kissable Balm Stain fan club. I gave them a harsh review on YouTube but we've learned to love each other. I reapply a few times a day to keep my moisture craving lips happy and then slap on a thick balm after I remove my Revlon Kissable colors. That balm application after removal keeps my lips from peeling (yikes) and drying out so it's all good now! If you think you'd like to do a berry shade instead check out my post on Smitten. I love that one also.
If you haven't picked one of these up yet consider Romantic. It's a great special night out shade and for Valentine's Day it's what I'll be wearing:) I usually go for a red lipstick but not this year! Pick this up on sale. CVS is buy one, get one 50% off this week for Revlon products and there will be many more drugstore sales in the next month leading up to the big day. And lets be for real this color is good for any day!