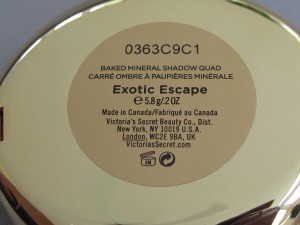 I got this quad around the 7th of April and I really have enjoyed playing with it in the last few weeks. I love the colors. The pink is my favorite ok well maybe the deeper burgundy shade is. Oh well I like them both! It's hard to decide.
I like the consistency of these eye shadows. Being baked the pigmentation is good and not too much fallout either. The eye shadows are easy to work with and blend. They can be used wet or dry. I only wish there was a matte highlight color in here but you can't have everything. If it did have a highlighter I could take this on trips and stuff because these colors can be worked so many ways. I used the pink as a blush too. It's a great blush.
The deep burgundy shade is a beast in the crease! LOL. It looks really good…that's what I'm trying to say anyway:) I'm having too much fun with this aren't I?
Anyway look into this soon if your interested. It's a limited edition item and $15 in stores and on the Victoria's Secret website.
Rated B+
Disclosure: I purchased this item myself!