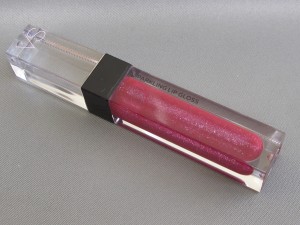 I got this beautiful lip gloss from Victoria's Secret a few weeks ago and I've been testing it out ever since. I love how sparkly it is and it's pretty moisturizing too. The sparkles aren't too annoying or big and the formula is nice and smooth. There is your standard doe foot applicator inside and I did get a bit annoyed by how hard it is sometimes to get more gloss out of the tube. The design is so pretty so I am going to give it a pass on that. I'm a sucker for a neat contraption/container/device.
I really was curious about Victoria Secret Cosmetics and I love this gloss the best out of the three things that I have tried so far. The shade Electric is really pretty. Over lipstick this gloss is amazing! I tried this gloss with a few of my favorite lipstick shades and I was always happy with the results.
Now lets talk about the price. You get .11 oz in the tube and these glosses are $10 a piece. I wasn't so happy about that until I started using this. I would definitely buy another one so the $10 a pop doesn't bother me as much as it did before. There are six shades in all. Like I said I would definitely try another:)
Rated B+ (Maybe I'm cheap but I think these should be less than $10)
Disclosure: I purchased this item myself!