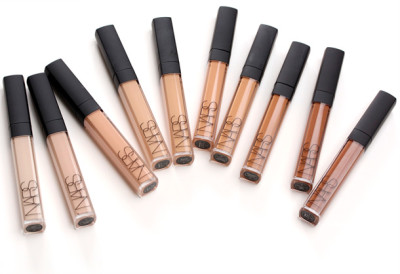 Image: Makeup and Beauty Blog
This is a hard topic for me. I go through serious stretches of time where I only use one concealer. I am always trying new things but it seems like I get in a funk and love to use the same product for a long stretch of time. I'll tell you what my concealer "life" has been like for the last few years.
Mac Studio Finish Concealer in NW45, $19- This may as well be called the "hammer". It conceals everything but it's kinda thick. I used this for a long while but found that it was no good under my eyes. That's the main area that I need concealer! It's one of the only concealers that creases on me in my under eye area and because of this I have it for the really tough jobs like covering flat iron/curling iron burns.
Eve Pearl Dual Salmon Concealer in Dark/Deep, $39- I fell in love with Eve Pearl's miracle concealer. The thing that I love about this concealer is that it really cancels out under eye bags. The orange tone to the salmon concealer side really covers a whole lot of sins! But creasing became an issue. I really had to set this concealer perfectly to keep it from creasing on me. Oh and I'm lazy…
Benefit Boi-ing Concealer in #5 Deep, $20- I loved this one quite a bit (full review w/swatches here) not too long ago. It erased EVERYTHING. It's kind of thick though….but it really can cover anything that you need covered. I still love this concealer for the tough jobs! One swipe and your good!
Amazing Cosmetics Concealer in Deep (Dark), $28- I really love this stuff. I don't use it as much as I used to but when I did use this I went through two tubes and I was obsessed. This is a great concealer that works like magic. It's a nice thin formula that performs like a much thicker one. I need to pull my current tube out soon…I miss this stuff!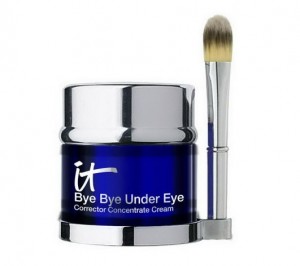 It Cosmetics Bye Bye Under Eye Corrector Concentrate in Rich, $29- This stuff is quite possibly the best concealer I've ever used. It works so well that it makes me look like a different person..you know much YOUNGER. I remember staring at myself in the mirror because this stuff is so good. I use this on special occasions now just to shock myself and others! But make no mistake this is the best under eye concealer I've ever come across! Check it out if you need something (full review w/swatch here) serious for coverage.
Nars Radiant Concealer in Amdande, $29- I use this concealer a lot now. It's great for the discoloration on my chin and the random zit that I need to cover here and there. It's a really nice formula that blends beautifully and stays all day. I had the wrong shade (Cafe-it was too dark) before but once I got the right shade I was all set. I use a very thin layer on my under eye area when I'm in a rush and it doesn't crease!! It just makes me look like I got a lot of sleep:)
Mac Pro Longwear Concealer in NW40, $20- I use this non-stop now. It's a great concealer that doesn't crease under my eyes and covers up everything! I use it on my brows (you know when I'm in need of a brow wax!) and to make my lids look perfectly even color-wise. When this concealer first came out I hated it. Turns out I just had the wrong shade….
Please let me know what your favorite concealer is at the moment! I'd love to hear about it!