Here is another item I got from IMATS in NYC. The Yaby Cosmetics booth was one of my first stops and I got two palettes. I thought I'd show you one of their most popular palettes first, the Best of Both Worlds Palette. This palette retails for a whopping $136, but at IMATS it was $89. Me paying $136 wasn't happening, can you imagine? I can't!
This palette is a collection of their most popular pearl paint colors and regular eyeshadows. There are 40 included in all!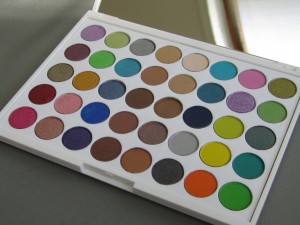 Beautiful right? I fell in love with this palette. The first three rows (far left) are pearl paint colors which I love. They are so pigmented and the shimmer they give off is just beautiful. I like the eyeshadow colors too. Some are matte and others have a nice shimmer to them. There are so many beautiful color choices in this palette.
But beware of the fallout! I really like this palette but some of these shadows are really kind of messy. I always do my eye makeup first after applying primer just in case there is any fallout when I'm doing my eye makeup. But if you are using this palette doing your eye makeup first is a must.
They swatch beautifully. Look at that yellow!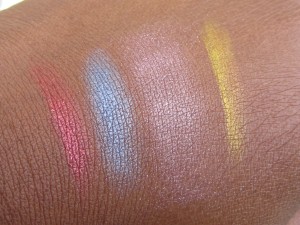 Overall I like this palette. The colors are beautiful and the shades are very pigmented. I am in love with the pearl paint colors. You have so many options to create really neat eye looks in this small but full of color palette. I think this is the perfect thing to take with you on a trip.
Rated B+
Disclosure: I purchased this item myself!
Just in case you missed it here is my video haul from IMATS: