This is GOOD.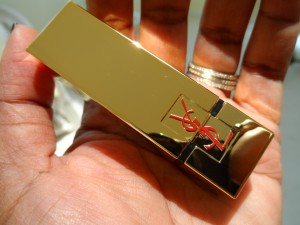 This is a very comfortable matte lipstick from YSL. Maybe you can tell how much I love it from all the pictures? Ha! There are three new matte lip colors from YSL for Fall. I knew this was the one for me at first glance. I have a thing for red lipstick after all. Check out the details from the YSL website on these:
The must have for the perfect matte lip look. Rich, creamy formula is infused with a velvet complex for a luxuriously smooth application, and jojoba oil for long lasting comfort. Intense color pigments for a vibrant touch of color that lasts.
I can co-sign on the comfort. Just like Chanel's Rouge Allure Velvet La Fascinante #38 this is so easy to wear. It's not as shiny as the Chanel but it's not chalky either thank goodness. This feels like really good balm on my lips. It lasts a good four hours on me with minor touch ups through out the day. This is a winner. Check out all three shades at the YSL counter at $32 per shade I just picked one. I got this from the Nordstrom website.