YSL Pink in Devotion #06, $34 (Sephora)
I love my pinks and I am happy to add another to my stash! Pink in Devotion is a new color from the Shine collection. I picked it up based on its description on Sephora.com. They called it a bright hibiscus pink. That sounds right up my alley!
I posted on Fuchsia in Rage yesterday and though it's my favorite this is a close runner up. This is a less purple more wearable HOT PINK. Is there such a thing? Well maybe for some. Ha!
This at $34 is a luxury purchase but one that is going to be a home run for lovers of the YSL Rouge Volupte line. These lipsticks are very moisturizing but not long wearing by any means. I enjoy them for the amazing color payoff and fact you don't need a mirror to apply them. They are buttery application wise and I enjoy the fruity scent and yummy taste. The only thing that I'm not getting is the new line of Rouge Volupte Shine lipsticks are the same as the Rouge Volupte's that I currently own. Not complaining just wondering what I'm missing here. But if they needed an excuse to come out with a whole new range for Spring I'm down with it!
Check out all the shades available because this collection is massive and I mean that in the best way. So many choices!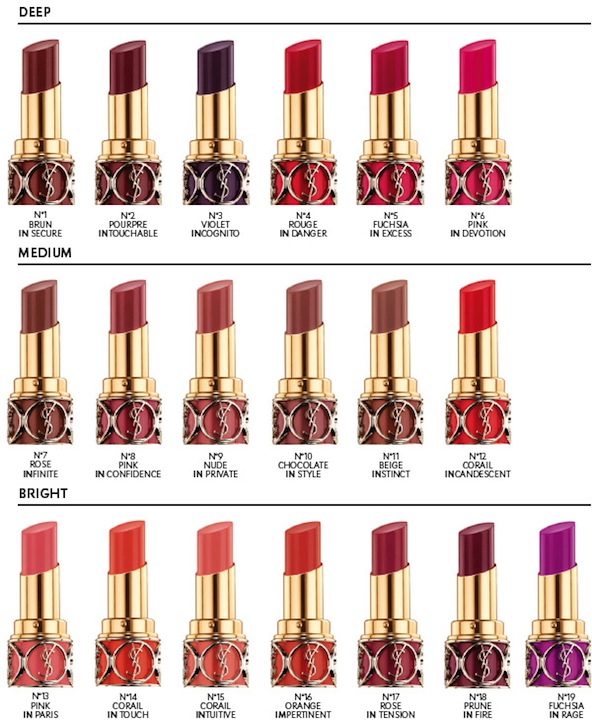 Swatch and decide at Sephora or your favorite YSL counter. Make a decision you can live with. I got two and thats it for me till the next Friends & Family sale.