Bare Minerals Balance & Boost Mineral Veil Duo-$29.50 (.21 oz's)
I love Balance & Boost so much that I went back to the store after my initial purchase and got a backup. I have the original Mineral Veil from Bare Minerals and its good. But this…is great!
In case you haven't used the BE Mineral Veil before it's something that is used at the end of your makeup application. It's like a setting powder and helps keep your makeup looking good for the day ahead. I use it to touch up as well because it helps my oily t-zone. You know my oily greasy t-zone? Ugggh.
More official info:
The limited-edition Balance & Boost Mineral Veil® finishing powder imparts a quiet boost of color to counteract dull skin, while gently absorbing oil and minimizing the look of fine lines and pores for a fresh, flawless look all day. With a mirrored compact and Buff & Go Brush that locks securely closed, it's the perfect travel partner for fast, on-the-go touch-ups.
Features and benefits:
- Infused with a subtle apricot tint.
- Formulated without parabens, binders, fillers or harsh chemicals.
This duo is a great fit for someone thats on the go. I love the container that the powder is in. It's easy to transport in your makeup bag and you have control over the powder inside the container so that it doesn't get all over the place. I love the kabuki like brush that comes with the powder. It's dense and with just a few flicks you can dust your face quickly with the mineral veil. And last but not least the color…it's a perfect fit for my skin tone. Dead on perfect blends right in kind of fit. Genius. I might need a third one it's just that good.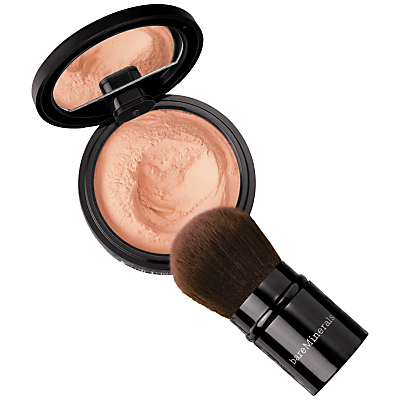 I picked this up at Nordstrom. Check for this before its gone from the stores. I wish it wasn't limited edition but it is!