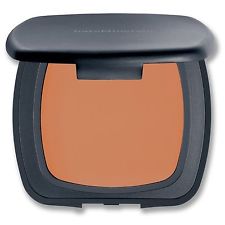 Bare Minerals Touch Up Veil in Dark, $22 at Nordstrom
I have a complicated relationship with powder. I need it but it's not my favorite thing. I approached the BE Ready Touch Up Veil in the Translucent shade with caution and was pleasantly surprised. I've been using it for several months. But then I saw a presentation on QVC not long ago and they came out with colors! I was so excited.
I use the Golden Dark Matte Powder Foundation so the Dark Ready Touch Up Veil is the one that is a fit for my skin. If you wear the Light, Medium, Tan, or Deep shades in the foundation shades figuring out your match is as easy. The name of your Touch Up shade is part of your foundation color name most of the time if that makes sense. I got the Dark shade and it sat around for a little bit. And then I opened it and the angels sang!
It's the perfect powder. I was really happy with the Translucent powder but this is a whole new level! The Translucent powder keeps me matte for ours and it doesn't disturb my makeup or look chalky. I use a light hand but with my deeper skin tone I'm sensitive to something looking ashy. So the Translucent was working great. I really didn't have a need for a new solution but the Dark is magnificent. I would buy this again without question. It's the perfect setting powder as well as being great for touch ups. I go back and forth between using the Ready Dark & the Translucent Ready but I think that the Dark is the one I will be repurchasing. The tint is everything!!
From the Nordstrom website:
bareMinerals® 'Ready' Touch-Up Veil SPF 15 is formulated to smooth skin, protect from UVA/UVB rays and leave fewer imperfections while reducing shine for an airbrushed finish. It features SeaNutritive Mineral Complex, which is composed of positively charged, antioxidant-rich sea minerals and grapeseed oil so it's not only great for your skin but it leaves you looking fabulous.
How to use: Apply with a brush or the included puff to eliminate shine. Focus on the oily areas.
If you are in the market for a good powder check these Ready Touch Up Veil's out. Let me know if you've already given one a try! I'd love to hear your thoughts.