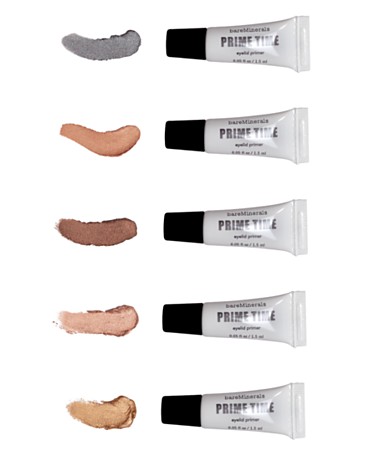 I haven't purchased many bareMinerals products in the past but this is one set that I couldn't pass up. I saw a post on these primer shadows a while ago and I was excited to have an alternative to my eyeshadow base collection. I feel that no one brand has a great line of cream products in all the colors I want.  So I have a collection of cream bases from a bunch of brands like Mac Paint Pots, Benefit Creaseless Cream Liner/Shadows, and L'oreal Hip Liners. I've got most of the colors that I need. But this is a nice set of colors to add to the mix.
Included in the box are five colors:
*Sundance (sunlit peach)
*Bronzed Twig (iced chocolate)
*Gold Nugget (radiant gold)
*Gunmetal (midnight silver)
*Sandalwood (golden taupe)
These colors can be used alone, together or as a base if you'd like to put some powder shadow over top of them. I am addicted to using a creamy eyeshadow base. I always start with eye primer and then use a cream color base. After that I use powder shadow usually but I use several of my Mac Paint Pots alone.
This is a nice change because its like my first two steps in one. I have to add that if you have oily lids then putting on primer before using one of these will help. Even though I have an oily t-zone my lids aren't oily so I can skip the eye primer with these. I often slap on a little eye primer anyway. I'm paranoid, I think I'd rather have my skin breakout than have creasing shadow. Something about that just drives me nuts. But just so you know I was able to use these without eye primer no problem.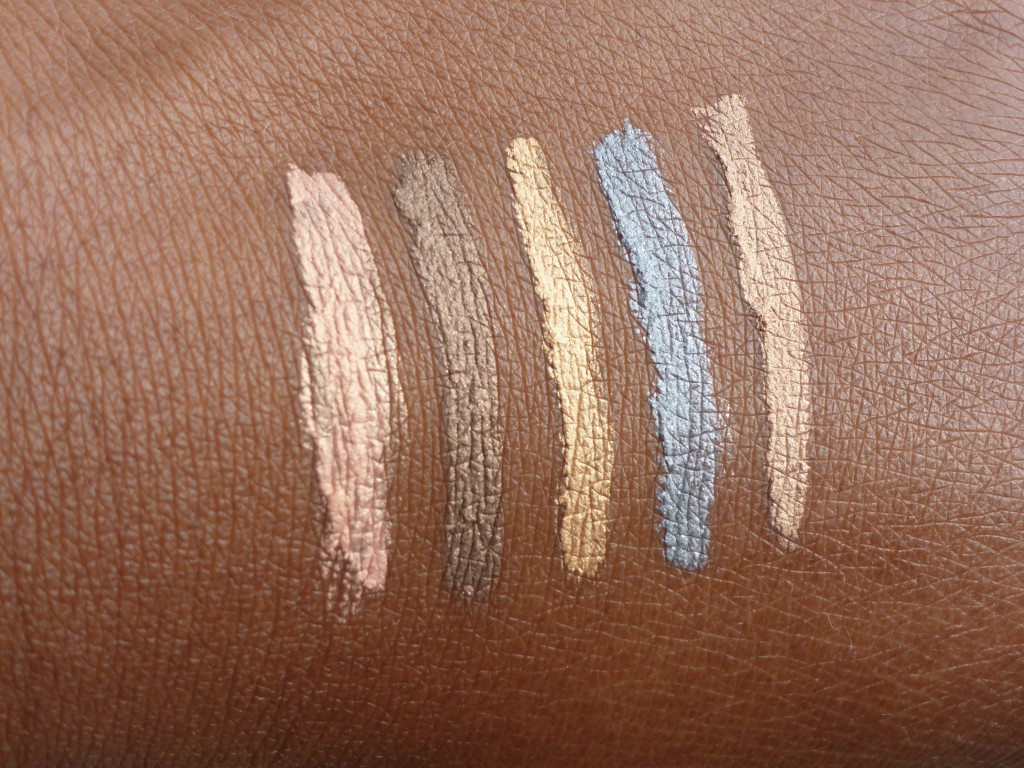 Sundance, Bronzed Twig, Gold Nugget, Gunmetal, and Sandalwood (heavily swatched)
These shadows are small, they are .05 fl oz's each. I am not unhappy with that because it's going to take me a while to use them and five different colors for $28 isn't bad. If you purchased one of these full size it's .10 fl oz's for $18. That in my opinion wouldn't really be something I'd be nearly as excited about. That's why I've never purchased any of these before.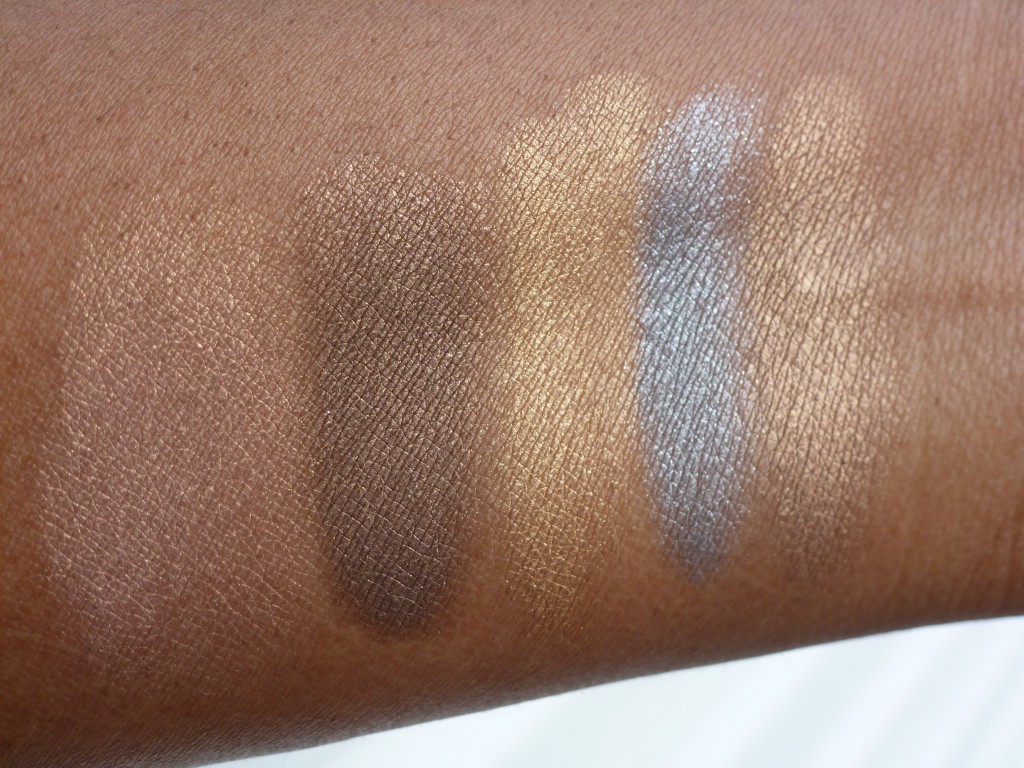 Sundance, Bronzed Twig, Gold Nugget, Gunmetal, and Sandalwood (swatched and blended)
I really have been seeing some great products this holiday season from bareMinerals. I really need to branch out from my forever favorite product which is the only one I always have on hand, Glee blush. That is the most perfect blush ever created.
What are your favorite bareMinerals products? And can someone explain the whole bareMinerals/Bare Essentials thing to me. I don't get what that's about. Are the products just branded differently?