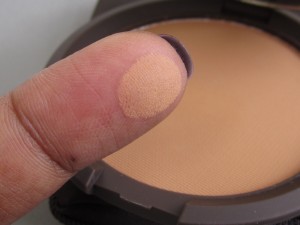 This is one of the best powders that I've come across in recent memory. I got this a while ago at a cosmetics trade show and I kind of gave it a rest over the summer months but it was one of the first things that I pulled out again since its getting cooler. Becca is a brand that I can't seem to get enough of and the fact that it's not available around me only adds to my obsession.
The packaging is pretty cool. I love the zippered case that comes with the powder. I hate how my powder compacts get beat up while they are in my purse. I have had so many scratched up compacts throughout the years. Not the case with this! Here is a really good write-up on this compact from the Becca site and I can co-sign on all of this info so here it is:
The ultimate "show off" compact. Beautifully packaged with its own zippered nylon pouch for protection in the handbag, this exceptionally fine, silky pressed powder is designed for portable touch-ups to reduce shine and freshen make-up. This micro-milled powder contains a superior, modified rice starch, allowing it to be applied as often as desired, without cakiness.
This is a great fine milled powder that is perfect for touch ups throughout the day. I think at $42 it's a huge investment (thank goodness I got a discount when I got it!) but it's ultimately worth it especially if you have an oily t-zone like me or you just like to use powder frequently. There are twelve different shades and this powder is very forgiving. I didn't use it much during the summer when my skin tone got a little deeper but it's just perfect now. This is a perfect holy grail purse product. If you don't have any places that sell Becca like me the online store is a great place to get your Becca fix! Click here for a link to the Becca USA Store.
Rated A