I love Bite Beauty. I never get tired of trying products from them. I picked this Lush Lip Tint up a few weeks ago and I've been loving it. It's in the shade Cherry and its just about the perfect shade for cute yet luscious lips.
At $24 these tints aren't cheap but the way this feels on the lips makes me okay with it. Think of the most moisturizing yet pigmented product you can have. This is it! I was shocked by how much COLOR I got out of this. I mean a nice red shade. You can put on a few layers and this ends up looking like a lipstick. It's amazing stuff.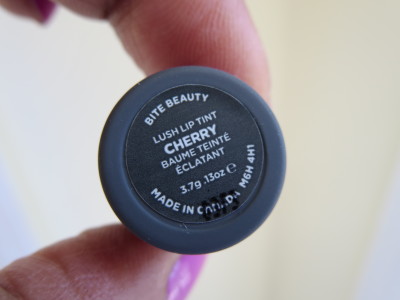 There is a slight fruity smell and taste to this lip tint. It lasts about four hours on my lips and I do have to touch up after meals. It's not a long wearing product by any means. Touching up is a pleasure to me. There are seven other shades but I think I'm happy with this tint and I don't need any others. This is a luxury lip butter so it's not something everyone is going to want to invest in.
From the Sephora website: 
What it is:
A revolutionary lip tint formula that delivers luscious color with an ultra-glossy finish. 
What it does:
This lustrous lip tint contains pure argan oil, vitamin E and fruit butters to hydate, nourish, and revitalize lips. While delivering long-lasting color, this product works to soothe and soften the lips, making your pout extra kissable. The center B provides resveratrol, a double dose of antioxidants found in red wine. 
What it is formulated WITHOUT:
- Parabens
- Sulfates
- Synthetic Fragrances
- Synthetic Dyes
- Petrochemicals
- Phthalates
- GMOs
- Triclosan 
What else you need to know:
The more layers you apply on your lips, the more color you get.
Sooo pretty! Check these out at Sephora if you are interested in splurging on something that feels great on the lips and looks amazing!