Bobbi Brown Bronze Eye Palette, $50 at Nordstrom
This palette is gorgeous. I have to hand it to Bobbi on this one. I love a simple slightly shimmery eye look using bronze and gold more than anything. It's part of my warm weather routine. I go for the gold all Summer long and this is going to be my partner in crime for that! Bobbi's Nude Glow collection has a great selection of palettes, highlight, lip color, and nail color for every skin tone. I got two things from the medium to dark part of the collection. I purchased the Bronze Eye Palette and the Bronze Glow Finishing Powder. I decided to dig into the eyeshadow palette first!
From the Bobbi Brown website:
What is it:
Luminosity for eyes meets skin tone-enhancing color – Bronze Eye Palette features four perfect hues for medium skin tones in a mix of matte and sparkling textures: Gold Bar Sparkle Eye Shadow, a beige gold; Amber Shimmer Wash Eye Shadow, a warm copper bronze; Toast Eye Shadow, a toasted peach; and Rich Bronze Eye Shadow, a golden brown.
Who is it for:
Any woman with a medium to dark skin tone who's looking for a lift.
Why is it different:
These Eye Shadow shades work with your skin tone, practically blending on their own, to bring brightness and lightness to any look -all in a polished silver compact.
How do I use it:
Start with a classic Bobbi eye – light allover shadow, medium lid shadow, dark liner – then layer Sparkle Eye Shadow on top. 
Get ready to be dazzled!
And some quick swatches!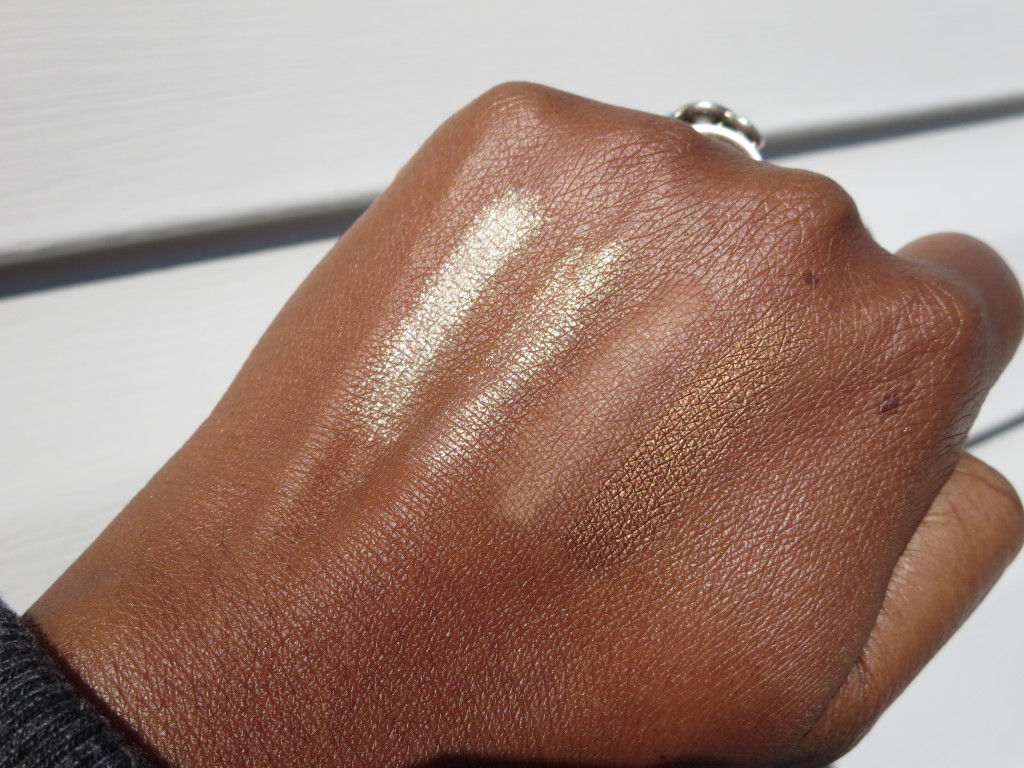 Bronze goodness! These shadows blend beautifully with some additional fall out when it comes to the bright top row of shimmer shades. I'd say that the advice from the Bobbi Brown website works best. Lightly layering the shimmery shadows over top of the other colors does work best. Using a light hand you can achieve a beautiful eye look thats fast and easy for everyday but has a little something extra due to the shimmer.
I think this palette isn't revolutionary but it is a great go-to palette for someone like me that is addicted to gold during the warm weather! I can see myself pulling this out day after day which is a good thing cause Bobbi Brown isn't cheap! The Nude Glow collection is limited edition so pick this up fast if you are interested! I'll show you the Bronze Glow Finishing Powder soon. It's a stunner also!