Bodycology Exfoliating Sugar Scrub-Exotic Cherry Blossom, 15.5 oz's/$5.99 at Target
I'm a little scrub crazy. Well you knew I'm just crazy period but I really get into scrubs in the shower. I hate rough dry skin and smooth skin equals better looking skin. To get myself closer to good looking smooth skin,  girl I scrub!
This scrub from Bodycology is kind of unique in that it's gentle enough to use daily. Most of the scrubs I have tried in the past were rougher and that wasn't possible. Besides having the scrubbing properties needed to do the job there is a nice blend of avocado oil and shea butter to make this scrub a nice alternative to using moisturizing body washes all the time. In the past I've mixed my scrubs with body wash to soften the effects a bit because who wants to feel like they are rubbing their skin with sandpaper? I found that incorporating using this scrub each day into my routine was easy. It smells good and it isn't too grainy. I can use this alone after my favorite body wash. No softening products needed.  I can work with this! There are other yummy flavors available also.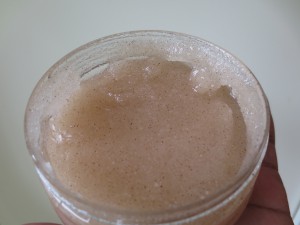 Check this out at Walmart or Target! Exfoliation is a must especially this time of year!