Stay Perfect Lipstick #30 Sweet Lips, $10 (Target)
I really wanted to love this lipstick but it was a tough lipstick to love. The color is gorgeous. Lets start with the positive. It's a beautiful sexy pink shade.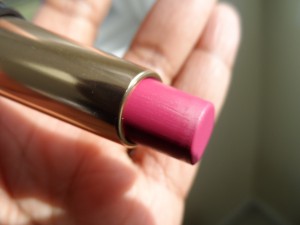 When I first smoothed this on my lips I was so excited. It felt like I was putting on a Revlon Lip Butter! I looked in the mirror and was quite pleased with myself. The color looked great on my lips and the texture was great. It was nice and creamy. Then I felt a dry down. Yeah….my lips felt dry. I looked in the mirror and there was a matte finish. Interesting but I wasn't disappointed. I thought it looked great.
But as time wore on the drier my lips got. They started to feel rather tight and the moisture I felt before was a thing of the past. Not good. So to sum this up I love the color and even the wear. It lasts a good 5+ hours beautifully. But it's not comfortable to wear and gloss is a must if I want to have some moisture in my life!
I wish I could say I could highly recommend this but I can't. It's such a shame! I'll keep this on hand but add my favorite gloss to the mix to keep things comfortable. Sorry Boots!