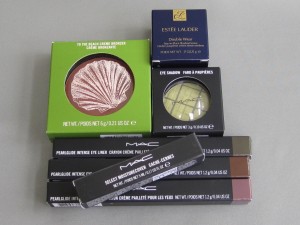 If you follow me on Twitter (I'm crystalcam) you know that on my way to a wedding with my husband on Saturday we made an unscheduled stop to the CCO. I didn't know we were stopping but I think my husband knew that the pull of the CCO would be to great for me to resist. We were an hour early and when we were passing the CCO and the GPS said the wedding site was just ten minutes away…how could my makeup obsessed self not beg for a little peek at what's new?
Mac's To The Beach Weekend Creme Bronzer, $17.50. I slept on last years summer collection from Mac. I might do a giveaway with this.
Mac Select Moisturecover NW45, $11.75. I usually get NW45 concealer and I wanted to try this one-love the price.
Mac Enviably Fun eye shadow, $10.25. I didn't get much from the Tartan Tale collection over the holidays but I wanted this shadow.
Estee Lauder Double Wear Stay-in-Place Shadow Creme #16 Enchanted Forest, $12.25. I have been hearing so much about these eye shadow cremes and I want to know if it's all true! I hope do stay put like everyone has been telling me. There were so many beautiful colors to choose from. If this one works I am going to go back for more.
Mac's Pearlglide Eye Liner, $10.25 each. I was so excited when I saw these! Lord It Up is a nice glittery brown, Almost Noir a glittery purple, and Black Line is a glittery black. Love these!! They are so creamy and apply so smoothly. Can't wait to use these three pencils.
So that's my haul, if you'd like to find a CCO near you please use this link: www.mallseeker.com/cosmeticscompanystore.aspx . They have many locations all over the U.S. and you get about 30% off Estee Lauder brands like Mac, Bobbi Brown, and Origins etc.