My very first Glossimer from Chanel…..isn't it pretty?!
I got this at the Nordstrom Anniversary sale last month and I was so excited. I love the color and really was very curious about the Glossimer formula. I've heard a lot of different things about it. Based on what I was heard I was kind of surprised when I started testing Blossom out. This is a beautiful looking gloss, there is no denying that. But its gritty. I am shocked. I love it and have worn it here and there for over a month but it's so GRITTY. It looks great alone and even better over lipstick but why isn't the formula smoother:( Did I mention it was $29? I want it to be much smoother for that much loot. The colors that sparkle through the light pink base are so pretty, there is purple or maybe its blue in there and green I think. I can't even tell exactly it's just so well done. But the feel of the gloss is the only drawback. Even in low light it glows….talk about eye-catching!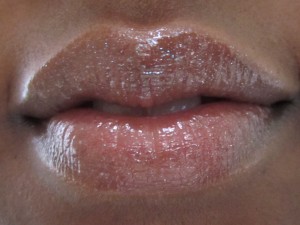 I love it though. I can't deny it. I'd buy it again. There isn't any scent or taste to the gloss which is good. It's a brilliant shining gloss that I love and makes me feel like a million bucks! I just wish it was less gritty feeling and less sticky on the lips. Oh well.
Rated B-
Disclosure: I purchased this item myself!