I've been a little Chanel crazy lately. They have been coming out with some really tempting stuff and I love blue. This was something that I swatched quite a bit at the counter and then caved on much later. I was concerned about the two lighter shades in the palette being unusable for me. Once I practiced a little blending action on the back of my hand I saw that the bottom right shade is a great transitional blending color. I knew I'd be creating some intense blue looks with this quad but I had just as much fun lightening the blue shades up with the lighter colors in the palette. I ended up doing a lot of mixing with this palette. Combining colors and blending too. I was kind of surprised and pleased with the end result. I thought this might be going back if I didn't get what I wanted out of it. These retail for $59 each.
My favorite shade out of the four was a little disappointing fallout wise. The beautiful shimmery deep blue on the bottom, left side has more fallout than I'd like. I always do my eye makeup before the rest of my face but I still hate glittery specks. I can never totally get rid of the really finely cut glittery fallout. Grrrrr.
eyeshadows swatched on fingers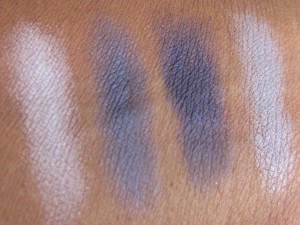 eyeshadows swatched on skin
I'm really happy with this palette because something about it brings out my creative side. Its a bit of a challenge and I like that!
Rated B-
Disclosure: I purchased this item myself!