Chanel has released some new Rouge Allure lipsticks and I can't tell you how excited I was to check them out. There are almost 20 colors and I picked up three. I'll show you two today Exaltee (fuchsia pink), Palpitante (raspberry red), and save Pirate (blue red) for another day. These retail for $34 each so I recommend swatching them at the counter if you can. I did. I thought I knew which colors I wanted but only ended up with one color I picked from looking on chanel.com for these.
First up Exaltee.
I love Exaltee. It's a bright pink and smooth as silk. I don't know but I swear these Rouge Allure's are smoother. They put a little Revlon Lip Butter formula in these! They don't melt on/away like Lip Butters but they sure do slide on and feel good. I get average wear-about 5 hours but this is such an improvement on an already good formula in my opinion. They didn't take out the powdery smell but who cares if we get great colors and a smooth texture like this!
Next is #102 Palpitante. If you like shades that aren't too red, this might be the one for you.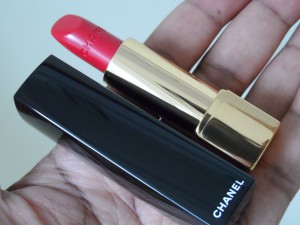 I love Palpitante. It's a great in-between pink/red that looks so bright and youthful. Sassy even:) I took that last picture (an extreme close up) so you can see the beautiful finish both of these shades have. I sometimes use gloss over my lipsticks but this is just the finish I like and prefer to wear without gloss.
I can't recommend these enough. Check them out at the counter because there are soo many colors. I'll show you Pirate soon!