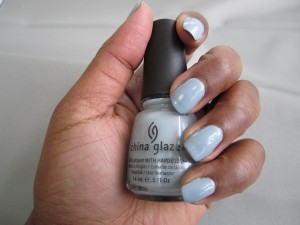 Sea Spray .5 oz. ($6.50 at Ulta)
This is another nail polish that I got from China Glaze's Spring 2011 Anchors Away collection. I think this is a beautiful color that I don't have in my collection. I love that its hard to tell if it's blue or gray depending on the light. It's really a pale blue but it looks gray sometimes. Really nice. I used two coats of Sea Spray with a top coat in the picture above.
Rated B
Disclosure: I purchased this item myself!