I went through my stash and I had a lot of duplicate products and backups that I don't need….
I thought I'd share my box of extra products with one of you!
Please use the Rafflecopter tool below and enter to win!
International readers are welcomed to enter…GO!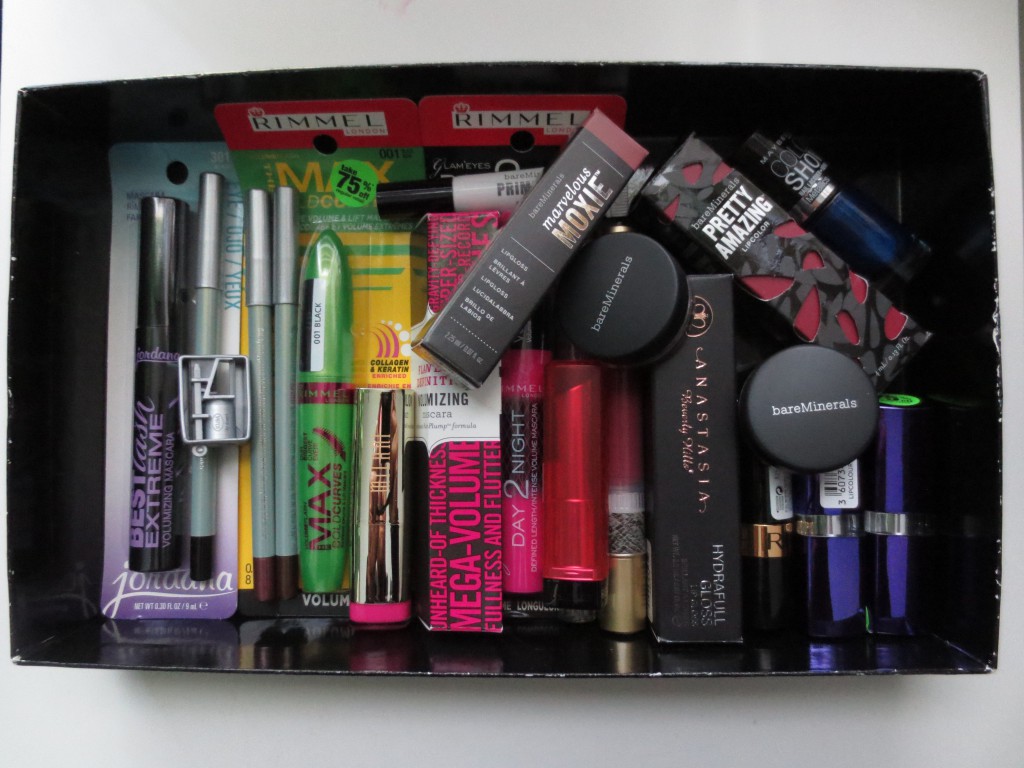 All these products are unswatched and in perfect condition!
Most are things I picked up on sale or that I got as part of a set:)
Here's the list of whats in the box, each product is full size except where noted:
Rimmel Max Bold Curves Mascara
Jordana Best Lash Extreme Mascara
Rimmel Day 2 Night Mascara
Bare Minerals Flawless Definition Volumizing Mascara
Anastasia Hydrafull Gloss-Sorbet
Mally Delish Lip Gloss
Stila Lip Glaze-Black Cherry
Bare Minerals Marvelous Moxie Lip Gloss-Maverick (mini)
Bare Minerals Pretty Amazing Lip Color-Bravado
Mally Evercolor Waterproof Eye Liner- Dusky Plum, Dark Chocolate, and Midnight (w/sharpener)
Revlon Lip Butter-Cherry Tart
Milani Color Statement Lipstick-Rose Hip #14
Revlon Spicy Cinnamon Lipstick
Rimmel Moisture Renew Cherrylicious Lipstick
Rimmel Moisture Renew Burgundy Shine Lipstick
Bare Minerals Prime Time Eyelid Primer (.1 oz mini)
Maybelline Color Show Nail Polish-Navy Narcissist
Bare Minerals Queen Phyllis eyeshadow
Bare Minerals Clear Radiance all over face color