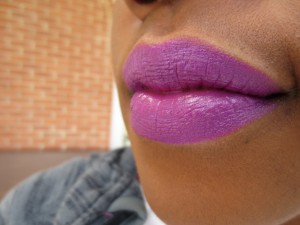 Mac Heroine (matte finish) Lipstick
One of my favorite things from the Reel Sexy Collection last year was Heroine lipstick. It's an amazing matte purple shade that I am a little crazy about. It's the smoothest formula ever and my tube is so beat up that I can't even show it to you. I dented the tip and dropped it so it's well worn. So here is the exciting news….it's coming back and in a BIG way!
Remember last years Fashion Sets Collection? I loved that some of my favorite lipstick shades were getting the royal treatment with matching lip glosses and nail shades. Well they are going even bigger with the Fashion Sets collection this time around. On April 8th Heroine among a few other colors is getting a matching gloss, liner, eyeshadow, and nail polish!
I also noted that Embrace Me is also part of this collection. I think it's always been a lip liner I wanted but never purchased. But with this collection I can buy the lipstick and gloss etc! Do you remember that beautiful bright fuchsia? It's gorgeous, check Temptalia's post on it here. I am beyond excited. Can you tell? Ha!
I got the product list from Mac Guy on Specktra. If you haven't visited Specktra you should!
Fashion Sets April 8
Lipstick 15.00 US/18.00 CAD
Heroine – Bright violet purple (Matte)
Ablaze – Bright apricot (Matte)
Silly – Bright pink (Matte)
Embrace Me – Bright fuchsia (Matte)
Lipglass 15.00 US/18.00 CAD
Heroine – Bright purple
Ablaze – Bright apricot
Silly – Bright pink
Embrace Me – Bright fuchsia
Lip Pencil 15.00 US/18.00 CAD
Heroine – Bright purple
Ablaze – Bright apricot
Silly – Bright pink
Embrace Me – Vivid pinkish purple
Eye Shadow 15.00 US/18.00 CAD
Heroine – Bright cobalt blue (Matte)
Ablaze – Midtone coral (Matte)
Silly – Bright pink (Frost)
Embrace Me – Blue pink (satin)
Nail Lacquer 16.00 US/18. CAD
Heroine – Bright violet (Cream)
Ablaze – Bright orange (Cream)
Silly – Bright pink (Cream)
Embrace Me – Bright fuchsia (Cream)