This lipstick is GOOD.
Marilyn #40 Lipstick ($36/.12 oz.)
I don't buy many Dior lipsticks but this is one I had my eye on when I saw their holiday release info. It's called Marilyn, the color is a dark pink-red shade and I love those! How cute is the packaging? Too cute. This is being advertised as a long-wearing shade and I can co-sign on that and also tell you that its really comfortable to wear as well. And it doesn't look half bad either in my humble opinion!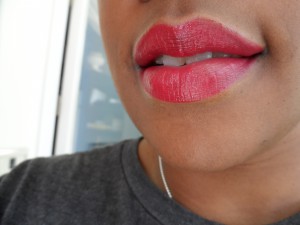 I can go hours and hours without touch ups with this shade. If I don't drink or eat anything oily I get a good five or six hours. The texture of the lipstick is nice and creamy. The pigmentation is good as well. I don't have to pile on or layer the lipstick to get a nice payoff. There are four different red Diorific shades for the holidays. I really wanted to get one. They aren't cheap! I am so glad I picked this up. And I'm even happier that besides the cute packaging the product inside is good as well.
Check Nordstrom or Neimans for this. I got mine from Kathy Shoreman at Neiman's (703-761-1600 ext.3282) along with some other holiday picks from Le Metier de Beaute and Chanel. Call her if you need help or tweet her @RYouBeingServed. She's the only SA for me because I can DM her my order on Twitter. How cool is that?
Besides Marilyn I got Ceremony Red Addict lip gloss and one of the limited edition holiday nail polishes called Diva that is in similar packaging to this lipstick. Here's a quick look at them! I haven't tried them out yet but I'll let you know more about them when I do!
Dior Diva Nail Polish, $26 and Dior Addict Ultra-Gloss Ceremony Red, $28