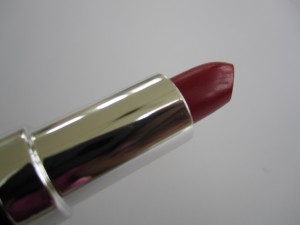 I love red lipstick. A beautiful red lip in just the right shade really catches the eye. Red Fuchsia from Face Atelier really has all the qualities that I look for. I couldn't wait to try it out. I'm a moisture junkie so I really hate it when lipsticks make your lips dry and suck all the moisture out of them after a few hours of wear. Thank goodness that wasn't a problem with this lipstick. It goes on smooth and the color…it's a beautiful deep red shade. Here's a swatch on my hand.
If you aren't familiar with Face Atelier, getting a lipstick is a great way to get to know the brand a little better. They have approximately 27 lipstick shades so there is a lot to choose from. At $22 (4g/.14 oz.) a shade it isn't cheap. I do love the pigmentation and the fact that it's fine without lip gloss on top to add moisture.
Excuse my quick picture of the lipstick on my lips. I'm still getting used to snapping photo's of everything!
If you'd like to take a look at other lipstick shades and makeup the website for Face Atelier is www.faceatelier.com. Lady Gaga is a fan of their Ultra Foundation. I've tried it and it's a new favorite of mine too!
Rated B
Disclosure: This product was provided for review by the manufacturer.