I live for black eyeliner. It's been a serious makeup staple for years. I'm really picky about what types of liner I prefer but I also jump ship quicker than anything to a new brand. I move on quickly to the next best thing and as you know with makeup there is always something new. Here are some favorites that I love currently. I reach for these four black shades out of quite a few others. Some are new to me and others are older tried and true favorites. Let me know what your favorites are, I'd love to know!
Mac Feline Kohl Power Eye Pencil
Nars Via Veneto Larger Than Life Eyeliner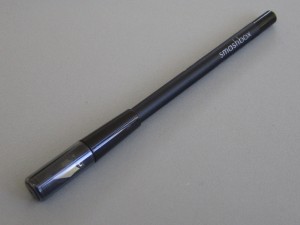 Smashbox Onyx Limitless Eye Liner
Mac Black Line Pearlglide Intense Eye Liner
What makes a black liner good to me is the intensity of the black color. I hate a whimpy black liner. You know the kind that looks blue-ish, green-ish, or gray/off black. Nothing makes me madder! I want the blackest black that there is…SUPER BLACK! So that's why I've retired a few black liners (Urban Decay 24/7 Zero eyeliner this means you) that I've used in the past. It's just a personal preference. But if you are interested here are some pictures showing that these four are pretty deep black liners. Mac Black Line gets a pass because its infused w/gold but here they all are swatched on my hand.
Mac Feline wins the blackest liner award!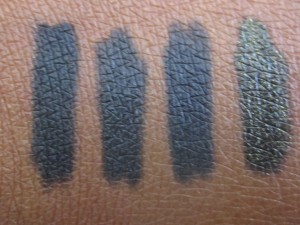 Mac Feline, Nars Via Veneto, Smashbox Onyx, Mac Black Line