Revlon Colorstay Foundation Cappuccino #410, 1 oz./$9.98 at Walmart
I love Revlon Colorstay!
Before Covergirl swooped in with All Day Flawless Foundation last year this was my number one at the drugstore for years! Everything from the color match to the formula for combo/oily skin is on point. This foundation comes in a different formula for normal/dry skin but if you know me then you know oiliness is a bit of an issue!
This foundation lasts and looks good throughout the day. I'd say I need to pat down my t-zone after lunch. Thats in the middle of Summer so that is darn good lasting power! Now in the Winter I am good all day. But here's the issue…there's a new bottle of Revlon Colorstay out there. One with Softflex across the top and that says it lasts 24hrs on it. I haven't tried that one yet. I'm afraid because I've heard bad things. You see a while ago I was at the end of my old formula Colorstay foundation bottle. And I figured that I had a limited window of time to get that same formula again. So I went on a hunt and found a bottle of Cappuccino in the old formula. Sneaky me. Now the new formula is everywhere. You have to tell me if you tried it and what you think.
So back to the foundation. It's good. It's a classic. It's a medium but buildable coverage foundation. There is a huge range of colors and if it had a pump it would be perfect. Oh how I wish it had a pump! You don't need much foundation to do the job. It's a thin formula and it blends in really easily. I prefer to use my fingers with this one. I have used a brush and a sponge and you do get a more airbrushed finish but you have to work fast! The foundation tends to get sucked up into my brush or sponge more than I'd like. I don't know why that is so I just go with using my fingers most of the time.
This is going to be a good fit for someone with combo/oily skin that wants a drugstore product that can go the distance. I've used a bottle of Revlon Colorstay a year for the last three years I think. I just love the stuff!
Take a closer look at Cappuccino!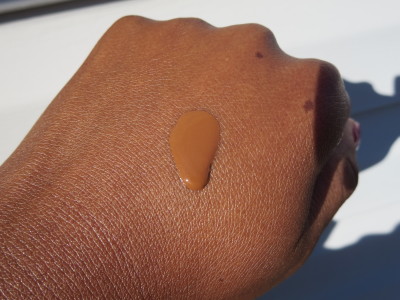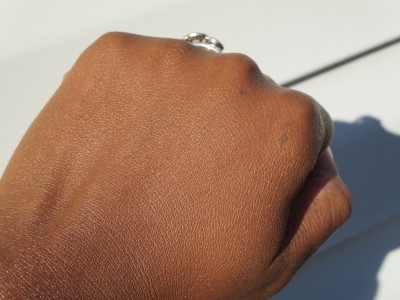 Check this foundation out if you are looking for a great inexpensive base! Let me know if you've tried the new formula:)